Archived Content
This archived Web page remains online for reference, research or recordkeeping purposes. This page will not be altered or updated. Web pages that are archived on the Internet are not subject to the Government of Canada Web Standards. As per the Communications Policy of the Government of Canada, you can request alternate formats of this page on the Contact Us page.
No. 119
Wayne and Shuster at the National Archives of Canada:
The Frank Shuster Fonds
by Rosemary Bergeron, Visual and Sound Archives Division, and Anne Goddard, Manuscript Division
For 50 years, the names "Wayne and Shuster" were synonymous with Canadian comedy. Johnny Wayne died in 1990 and, in 1995, the surviving member of the comic duo, Frank Shuster, donated his personal records to the National Archives of Canada.
The Frank Shuster records, or fonds, now preserved at the National Archives allow us to look back on the extraordinarily successful careers of these two Canadian comedians. The records in the fonds include school memorabilia and playbills; an almost complete run of radio, television and stage scripts; production material for television shows and scripts for various film projects; fan mail, correspondence and contracts; awards and certificates; extensive press clippings; photographs; a caricature; and approximately 60 hours of videotapes, sound recordings and film. Taken all together, the records provide revealing glimpses into Shuster's development as an entertainer, and a detailed record of Wayne and Shuster's career in comedy.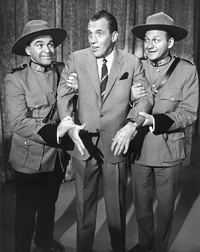 Frank Shuster was born in Toronto in 1916 and raised in southern Ontario. By the time he and Johnny Wayne met as students at Toronto's Harbord Collegiate Institute in 1930, he was well prepared for a life in show business. A magazine clipping found in his papers notes that he was given an early introduction to Charlie Chaplin (and, later, the Marx Brothers) when, as a small boy in Niagara Falls, he hung around his father, a movie projectionist, at work. Handwritten notes by Shuster's mother record that he took violin and tap dancing lessons during the years his family spent in the Windsor-Detroit area and that he wrote his first song, "I'm Hot and Bothered Over You", at age 12. The Shusters returned to Toronto in 1930 and Frank enrolled at Harbord, where he played a leading role as the thwarted romantic Strephon, in a production of Gilbert and Sullivan's Iolanthe (he saved his playbill, which is autographed and bears his handwritten annotation to the plot synopsis referring to his character's hopeless suit: "$24.00 at Tip Top"). It was at Harbord's Oola Boola Club, founded by history teacher Charles Girdler, that Shuster and Lou Weingarten (later Johnny Wayne) were so fortuitously thrown together and where, according to speech notes by Shuster found in the fonds, they were introduced to the humour of P.G. Wodehouse and Stephen Leacock, whose sensibilities were to influence their work.
Both Shuster and Weingarten went on to study English at the University of Toronto, where they wrote and performed for the University College Follies and contributed to the campus paper, the Varsity. Even then, Shuster was serious about the theatre, for throughout his university years he took summer courses at Toronto's left-wing Theatre of Action, under New York director David Pressman. Pressman emphasized the importance of discipline and warned Shuster, who faithfully recorded the advice in a notebook, that he tended to slip into characterizations too easily and should "play straight roles for a while. "Shuster also took careful notes on directing and, in 1941, directed three one-act plays for the "Y" Drama Group at the Jewish Centre Auditorium in Toronto.
Shuster and Weingarten graduated from the University of Toronto with B.A.s and entered its graduate program in English Literature. At the same time, in 1941, they began their radio careers as Wayne and Shuster with comedy spots on CFRB radio, first on the improbably named Javex Wife Preservers (where they dispensed household advice and jokes) and then on their own summer show, Co-eds and Cut-ups, where they began to exhibit the kind of erudite but zany humour that would become their trademark, as a Co-eds and Cut-ups script in the Shuster fonds demonstrates. Setting up a piano piece by the Czech composer Smetana,
Shuster: "Oh...Smetana...didn't he write the battered Bride?"
Wayne: "That's the Bartered Bride...you don't know your music."
Shuster: "You don't know Smetana."
Wayne: "As a matter of fact...I did know Smetana and he knew
which side his Bride was Bartered on."