Archived Content
This archived Web page remains online for reference, research or recordkeeping purposes. This page will not be altered or updated. Web pages that are archived on the Internet are not subject to the Government of Canada Web Standards. As per the Communications Policy of the Government of Canada, you can request alternate formats of this page on the Contact Us page.
CityScapes: Halifax
Early Days
Long before the first European inhabitants arrived at the site of what was to become one of Canada's oldest cities, the Mi'kmaq people set up summer camps for fishing and hunting on the shores of the harbour they called Chebookt.
The area around the harbour became known as Chebucto. The British first became interested in creating a settlement at Chebucto to counter the French presence at Fort Louisbourg on Île-Royale (now Cape Breton Island). The British settlement plan involved the recruitment of around 2,500 people, mainly from England. Edward Cornwallis, a 36- or 37-year-old army officer and former member of Parliament was appointed Captain General and Governor-in-Chief. He was in charge of settlement operations.
On June 21, 1749, the Sphinx arrived in the harbour and the following day Cornwallis wrote to the Duke of Bedford, reporting:
... the coasts are as rich as ever they have been represented. We caught fish every day since we came within fifty leagues of the coast, the harbour itself is full of fish of all kinds; all the officers agree the harbour is the finest they have ever seen. The country is one continual wood, no clear spot to be seen or heard of. I have been ashore in several places -- the underwood is only young trees so that with difficulty one might walk through any of them; D'Anville's fleet have only cut wood for present use, but cleared no ground, they encamped their men upon the beach.
- Payzant, p. 15
A total of 13 transports arrived over the next weeks, bringing men, women and children. The crossing had been a good one with few deaths and upon arrival the settlers were sheltered in tents along the north shore of George's Island.
Cornwallis's first task was to lay out the town grid. McAlpine's Nova Scotia Directory for 1869-70 describes the process:
In the month of July, Mr. Bruce, a civil engineer, and Mr. Morris, a surveyor, were ordered to lay out the town, which was surveyed and the plan completed by the 14th September. The town was laid out in squares or blocks, of 320 by 120 feet -- the streets being from 55 to 60 feet wide. The width of Granville Street is but 55 feet. Each block contained sixteen town lots, 40 feet front and 60 feet deep. The whole was divided into five divisions or wards. The settlers drew for the lots, and the names and number were entered on a register kept for that purpose, still in existence, and known as the allotment books.
- McAlpine's Nova Scotia Directory, 1869-70, p. 153-4
The selected location, close to the ocean, provided sheltered, deep-water anchorage and could be easily defended from attack by either land or sea. Before autumn, about eight hectares had been cleared for the town that Cornwallis had decided to name Halifax, after George Dunk, Earl of Halifax. The town was framed by five log forts, joined by a log palisade. By late autumn, around 300 houses had been completed at the foot of a large hill on the west shore of the harbour.
The first settlers were joined over the next couple of years by several hundred Protestant immigrants from Germany. In the mid-1750s most of these new arrivals moved to Lunenburg on the province's south shore, although some remained and settled down to farm at what became known as Dutch Village (from the German Deutsch, meaning "German"), on Halifax's western boundary.
The next group of people to come to Halifax, lured by government money, was an influx of Americans, mostly businessmen and professionals. Along with these new immigrants came Black men, women and children, many of whom were servants. Others were slaves. Slavery was present in Nova Scotia until the 1790s.
Though Cornwallis met with the Mi'kmaq and offered them small gifts, he at no time entered into negotiations for the land that became Halifax. Frustrated by the settlement's numerous problems and weakened by ill health, Cornwallis resigned as Nova Scotia's governor and returned to England in 1752.
Cornwallis's replacement, Peregrine Hopson, during his year as governor, sought peace with the Mi'kmaq but could not stop the hostilities between Britain and France.
When Charles Lawrence took over, it was he who decided the fate of the Acadians in Nova Scotia. Halifax was to play a major role in the tragic saga of the Acadian expulsion. Thousands of Acadians were housed on Georges Island while awaiting deportation.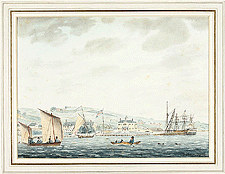 The continued hostilities between Britain and France provided the impetus for increasing funds from Britain to fortify Halifax, now considered an important military base. His Majesty's Naval Yard, with numerous buildings and wharves, was built on the harbour's shores beginning in 1758. The top of Citadel Hill was redesigned with new wooden walls and trenches to defend the town from overland attack. Most of the work at this time was related to the garrison, with military personnel outnumbering civilians six to one. As early as 1760, demobilization drove people to move away and the population of Halifax was halved.
Halifax began to rely more on trade with Boston and other New England centres. Life became harsher for the town's poor, many becoming increasingly dependent on relief for survival.
The coming of the American Revolution provided Halifax merchants with money-making opportunities. So close to the fighting and with a wonderful harbour and naval yard facilities, Halifax became the military base for the Royal Navy. By late 1775, the town was bustling with imperial ships, men and munitions and the merchants were making huge profits.
After the war there was an influx of American Loyalist refugees, many of whom were poor and discouraged by the life they now faced. Insufficient housing, poor diets and rampant crime added to the misery. Among these new immigrants were African-American Loyalists, many of whom had won their freedom by fighting for the British. While waiting for the promised grants of land, many remained in Halifax but over time gradually moved to small land grants in rural districts. Many Black settlers left Nova Scotia in 1792 for Sierra Leone, in search of a better life.
Growing Pains
As before, in times of peace, Halifax was struggling to get by. With the Napoleonic Wars in 1793, Halifax once again became a fortress and naval base, though the fortifications had been allowed to fall into ruin.
In 1794, 27-year-old Prince Edward (father of Queen Victoria) came to Halifax, where he would remain for six years. Edward launched a series of harbour refortifications. The defences at the top of Citadel Hill were again replaced with new wooden walls and trenches. Edward designed a star-shaped fort, with five stone towers built at strategic points, along with a communications system which could relay messages between fortifications using flags, pennants, and black balls by day and lanterns at night. Halifax's economy picked up. Prince Edward also built Fort Charlotte on Georges Island, named for his mother; and a wooden mansion on the shores of Bedford Basin, called the Prince's Lodge, that contained a music pavilion, garden pathways, ponds and Chinese temples. Edward's final construction was a garrison that became known as the Old Town Clock, standing on the eastern slopes of Citadel Hill.
The 1790s saw a growth of trade with the British West Indies. The sailors on board these vessels suffered hardships such as shipwrecks and "yellow jack", a tropical fever. With the Napoleonic Wars also came increased danger. Sailors could be carried off by press gangs to serve in the Royal Navy, only to be taken prisoner aboard French vessels and face imprisionment in the Caribbean.
By 1810, Halifax was the region's foremost commercial port. Halifax now handled European manufactured goods, American foodstuffs, Caribbean produce and colonial fish and timber. Irish Roman Catholic labourers had become the most common immigrant to Halifax, most arriving in the 1830s.
In 1812, Halifax found itself at war with its New England neighbours. Residents feared that Halifax was vulnerable to attack and could also be cut off from the trade it enjoyed and the American food imports it depended on. However, American merchants continued to come to Halifax to exchange goods for European manufactured goods and Caribbean produce.
Province House, housing the legislature and Supreme Court, opened in 1819. Around the same time, Alexander Keith, a Scottish immigrant who had arrived at the end of the War of 1812, opened his brewing business. His India Pale Ale became a staple for those stationed at or working on the harbor fortifications.
In 1828, engineers began to build a star-shaped series of walls and trenches. This new fortress on Citadel Hill, named Fort George in honour of the King, was not completed until the 1850s. Modernizations to Fort Charlotte on Georges Island were completed in 1873.
As Halifax grew, there was a call for change in the town's management, a change that would require Halifax's incorporation as a city. Prosperity among the master craftsmen and shopkeepers allowed for the acquisition of real estate, education and leisure time. This segment of the population also began to take a greater interest in civic affairs. There was a move to improve the quality of life in Halifax.