Archived Content
This archived Web page remains online for reference, research or recordkeeping purposes. This page will not be altered or updated. Web pages that are archived on the Internet are not subject to the Government of Canada Web Standards. As per the Communications Policy of the Government of Canada, you can request alternate formats of this page on the Contact Us page.
Historical Photographs and Documents
Gallery of Documents
In this gallery, you will find a selection of digital images of textual documents relating to early Chinese history from the collection of Library and Archives Canada (LAC).
To order a print or digital copy of these documents, please use our online order form. The order form will ask you for a reference number or item description, which you can obtain by clicking on the "Source" button beside each item. Information about price and format, as well as the online order form, is available in The Public section of the LAC website.
To find out more about archival and library material available at LAC, read the Research Guide to Early Chinese-Canadian History at Library and Archives Canada
Click on each image for an enlarged, printable version.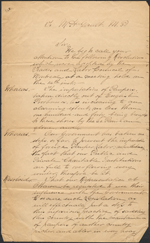 Letter to M.H. Gault, Member of Parliament, from the Montreal Trades and Labour Council, presenting their resolution condemning the passage of British paupers to Canada and Chinese immigration to British Columbia, November 1886
Source
Letter to Under Secretary of State from Chief Controller regarding the amount of money owed to British Columbia provinical government resulting from Chinese immigration fees, March 21,1887
Source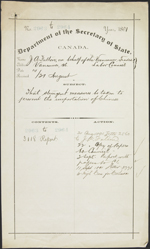 Correspondence between J.A. Fulton of Vancouver Trades and Labour Council and federal government requesting further measures to prevent immigration of Chinese to Canada, August 1891
Source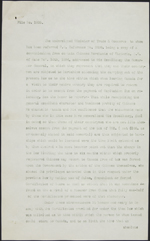 Petition from Chinese merchants of Victoria, B.C. regarding the law about time of absence allowed for visiting China, November 24-28, 1894
Source
Correspondence between D.J. Donoghue, Secretary of Toronto Trades and Labour Council and the Secretary of State, regarding changes to Chinese immigration laws, July 1895
Source
Letter from the Lieutenant Governor of British Columbia to the Secretary of State, Canada regarding Chinese immigration, and copy of address of the B.C. legislature on the 'Chinese Question,' February 1884
Source
Order-in-Council and correspondence regarding the disallowance of the Act of British Columbia, 1884, to prevent Chinese immigration, 1884
Source
Letter sent from Lieutanant-Governor of British Columbia to Secretary of State of Canada, requesting that Chinese immigrants be required to pass an 'educational test,' March 1901
Source
Two letters from R. Odlum, to members of federal government, discussing his objection to Presbyterian Church condemnation of Chinese immigration laws, September 1894
Source