Item Display
---
Title:
BACK TO GOD'S COUNTRY
Title year:
1919
Also known as:
L'INSTINCT QUI VEILLE (France)
Unused title(s):
The Pulse Of The Earth (working title)
Our Lady Of The Big Snows (working title)
Original dialogue(s):
(Silent)
Intertitle language:
English
Running time:
72 min 29 sec
Description:
The film tells the tale of a ferocious great Dane named Wapi who gets a chance to repay the only kindness he has ever known. In the Canadian 'northwoods' Dolores LeBeau (Nell Shipman) meets and later marries Peter (Wheeler Oakman), a government inspector and writer. Peter and Dolores board a trading ship and travel to the Arctic. The captain turns out to be Rydal (Wellington Playter), the man who killed her father. Rydal arranges for Peter to be seriously injured. At a remote Arctic trading post Dolores obtains help and in the process befriends Wapi. With dogs and a sledge, Dolores and Peter leave for the Royal Northwest Mounted Police post at Fort Confidence some 200 miles distant but Rydal follows them. Wapi, who has followed her, goes back to stop Rydal by savaging his dog team. Peter and Dolores are able to reach Fort Confidence and safety.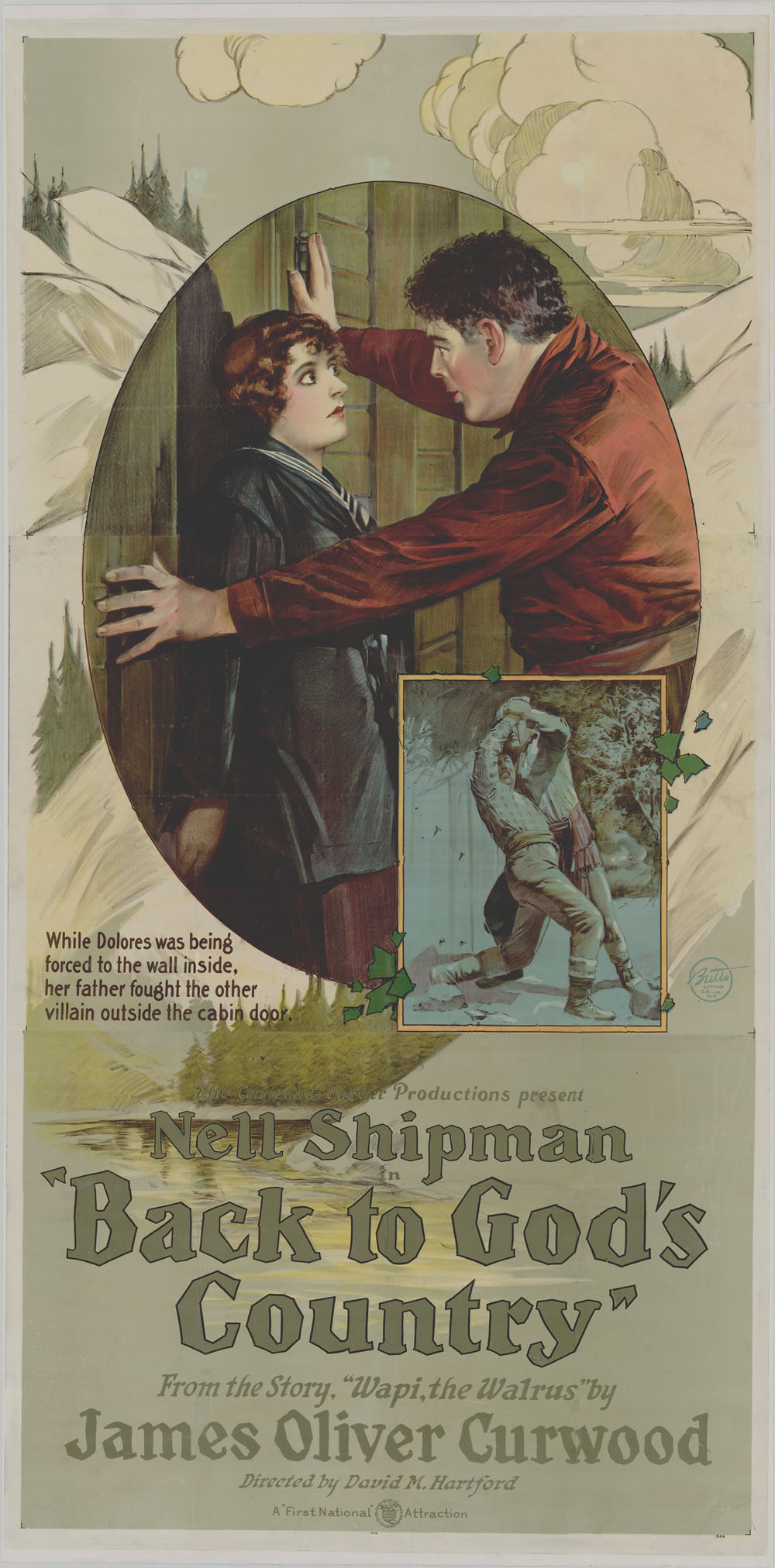 BACK TO GOD'S COUNTRY
Source
---
Credited as:
Director(s):
David M. Hartford
Bert Van Tuyle
Not credited
Screen writer(s):
Nell Shipman
James Oliver Curwood
Credited as:
Source material:
Writing source:
James Oliver Curwood
Wapi, the Walrus
Credited as:
Character name:
Actor(s):
Nell Shipman
Dolores LeBeau
Charles Arling
Sealskin Blake
Wheeler Oakman
Peter Burke
Wellington Playter
Plater
Rydal
Roy Laidlaw
Not credited
Baptiste LeBeau
Charles Murphy
Rydal's sidekick
William G. Colvin
first Mountie
| | | |
| --- | --- | --- |
| Executive producers(s): | Ernest Shipman | |
Credited as:
Editor(s):
Cyril Gardner
Musician(s):
Paul M. Sarazan
Photography:
Joseph B. Walker
J. M. Walker
Dal Clawson
---
Support:
35mm bw
Aspect ratio:
1.33:1/4:3 (Full Frame)
---
Release:
U.S.
September 29, 1919
Toronto (Strand)
October 27, 1919
---
Location(s):
Lesser Slave Lake
Calgary (Alta.)
Kern River
SanFrancisco (Calif.)
Studio:
Brunton Studios (Hollywood)
Laboratory:
Bloom Laboratories (LosAngeles)
Distributor(s):
Distribution area:
Canada
Regal Films (for First National)
Quebec
Regal Films (for First National)
US
First National
---
| | |
| --- | --- |
| CFFD Reference No.: | 1 |
| Mikan No.: | 2894160 |
| Misacs No.: | |