Archived Content
This archived Web page remains online for reference, research or recordkeeping purposes. This page will not be altered or updated. Web pages that are archived on the Internet are not subject to the Government of Canada Web Standards. As per the Communications Policy of the Government of Canada, you can request alternate formats of this page on the Contact Us page.
LAC Collection on Politics and Government
Cabinet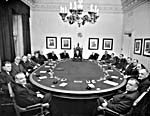 Photograph of Cabinet in session in the Privy Council Chamber, April 1953
Cabinet is a committee composed primarily of Members of Parliament chosen by the Prime Minister and formally appointed by the Governor General to the Privy Council. Collectively, the Cabinet is responsible for deciding on far-reaching government objectives, policies, and programming. The pre-Confederation precursors to the Privy Council of Canada were the Executive Councils established in each of the British North American colonies, designed to advise and assist the Governor in his executive, legislative and judicial functions.
Library and Archives Canada preserves and makes available a broad selection of records created by the Executive Councils and Cabinet, which encapsulate decisions made by these bodies and the reasoning behind these decisions. Additionally, the personal papers of a number of Executive Council and Cabinet members are also available to researchers.

Archival Collection about Cabinet
Executive Council Records
The following list outlines the collections that document the actions of those bodies responsible for advising Governors in Canada before Confederation. Fonds descriptions and finding aids describe and highlight the necessity of understanding the process by which these councils made decisions; therefore, these resources should be used whenever possible to direct research. The Colonial Office fonds have been included in this list because decisions of the Executive Councils were forwarded to Britain. Thus, the Sessional Papers, acts, and correspondence from the British North American colonies represent another rich source documenting the councils' activities.
Privy Council Records
The following list outlines the collections that document the actions of Cabinet after Confederation. The Privy Council Office fonds holds minutes, memorandums, and supporting documents used by Ministers and officers in Cabinet meetings, as well as similar documents created by the committees that advise the Privy Council.
Executive Council Appointees and Cabinet Ministers
LAC holds papers created by some members Executive Councils from British North America as well as those of Cabinet ministers after 1867. This material may include official documents created or accumulated over the individual's career as well as private documents of a personal (family correspondence) or political nature. A sampling of such collections is listed below.
Published and Digitized Resources about Cabinet
Published Materials
As a national catalogue, AMICUS not only shows the published materials held at Library and Archives Canada but also those located in over 1300 libraries across Canada. AMICUS contains over 30 million records for books, magazines, newspapers, government documents, theses, sound recordings, maps, electronic texts, as well as items in braille and large print.
Using the Advanced Search option in AMICUS and selecting "Publication Type", you can limit your search to "Government publications - Federal/national" or "Government publications - State, prov., terr. etc." You can also narrow your search by language and date, as well as format. Specifying "Web documents" in the latter will limit the search to full-text electronic publications.
Here are some sample Subject Keyword searches:
Upper Canada. Executive Council
Ontario. Executive Council
Québec. (Lower Canada) Executive Council
Canada. Privy Council
Cabinet ministers - Canada
Cabinet system - Canada
Ministerial responsibility - Canada
Executive power - Canada
Executive departments - Canada - Management
Databases
Cabinet Conclusions
This research tool provides access to the Cabinet Conclusions which summarize the discussions that took place at the meetings of the Federal Cabinet. They document decision-making at the highest level of the Canadian government and offer researchers a glimpse into Canadian politics for the years 1944 to 1975. The tool provides a unique look into the policies and processes of Cabinet as it is possible to search on one topic and retrieve results from all years of the Conclusions.
www.collectionscanada.gc.ca/archivianet/
conclusions/index-e.html
Orders-in-Council
This research tool provides access to orders-in-council from the date of Canada's modern inception on July 1, 1867 to 1910. The database is part of a continuing effort to make historical records of the Privy Council Office available online. Regular updates will extend the temporal range of these records through to the mid-20th century.
www.collectionscanada.gc.ca/databases/
orders/index-e.html
Web Exhibition
ARCHIVED - By Executive Decree
Featuring historical documents of the Privy Council Office, together with photographs, maps and documentary art, this Web exhibition looks at Canadian history through the operations of the Executive Branch of government.
www.collectionscanada.gc.ca/
executive-decree/index-e.html