Archived Content
This archived Web page remains online for reference, research or recordkeeping purposes. This page will not be altered or updated. Web pages that are archived on the Internet are not subject to the Government of Canada Web Standards. As per the Communications Policy of the Government of Canada, you can request alternate formats of this page on the Contact Us page.
Themes
Celia Franca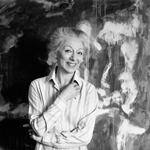 (1921-2007)
Dancer, Choreographer, Teacher
---
Founder and Artistic Director, National Ballet of Canada
Dancer, Choreographer, Teacher
"She inspired generations of dancers by her example and her devotion to the art of ballet. And most importantly, she made us believe in ourselves and that no goal was ever out of reach." Karen Kain, Artistic Director, National Ballet of Canada (in The National Ballet of Canada Mourns Celia Franca)
Celia Franca (her real name Celia Franks) was born June 25, 1921. As a very young child in London, England, Celia Franca expressed her strong desire to go on the stage. She loved to dance. She began to learn dance when she was only four, and studied at the Guildhall School of Music and the Royal Academy of Dancing on scholarships.
Celia Franca made her debut in London in 1936 and performed in England with a number of prominent companies, including the Ballet Rambert, the Sadler's Wells Ballet and the Metropolitan Ballet. She took on solo parts and became a brilliant dramatic dancer and an expert teacher of classical technique. She also choreographed ballets with great success and created the first two ballets commissioned by the British Broadcasting Commission for television.
In 1950, Ninette de Valois, the artistic director of the Sadler's Wells Ballet, recommended Celia Franca to a group of Canadians who were eager to start a classical ballet company. Franca accepted their invitation and moved to Toronto in February 1951 to found and direct the company that later became the National Ballet of Canada. She was then 29 years old. With determination and vision, she took on the challenge of recruiting and training dancers from across Canada. Her enthusiastic company opened on November 12, 1951, at Toronto's Eaton Auditorium.
In 1959, Celia Franca and Betty Oliphant founded Canada's National Ballet School to develop dancers for the company and encourage high standards of teaching and performance. The dancers viewed their demanding director with fear, but also with respect and love. A forceful woman, Franca fought with courage and resourcefulness for the artistic and financial success of the company.
By drawing on the classics, bringing in more than 30 Canadian ballets, and enlisting the help of prominent guest choreographers, Celia Franca built a repertoire for the National Ballet of Canada. She choreographed ballets and performed as a principal dancer with the company from 1951 to 1959. She also invited celebrated guest artists to perform with the company, and led the National Ballet on tour across Canada, the United States, Mexico, Japan and Europe, attracting international recognition and acclaim. In addition, she choreographed several ballets for CBC Television.
Franca was artistic director of the National Ballet of Canada until 1974 and later moved to Ottawa with her third husband, James Morton. She remained active as a teacher and dancer and returned to dance with the National Ballet in a gala performance in 1977. In 1978 and 1980 she was invited by the government of the People's Republic of China to teach and give lecture demonstrations. She served as the much-loved co-artistic director of The School of Dance in Ottawa from 1979 until her death on February 19, 2007. The School has created the Celia Franca Foundation, dedicated to supporting excellence in Canadian dance training, in her honour.
Celia Franca received numerous honorary degrees and other awards for her achievements. She was the first dancer to be invested into the Order of Canada (Officer, 1967; Companion, 1985).
Veronica Tennant, former prima ballerina with the National Ballet of Canada, wrote and directed the informative television portrait Celia Franca: Tour de Force, which first aired in 2006 on Bravo! A DVD with the same title has been issued; it includes the documentary as well as a second disc that further documents Franca's career and the history of the National Ballet of Canada. At the time of Celia Franca's death, Veronica Tennant commented, "She had this vision of excellence that she willed us to become and we did. Her gift to us was her life and it shaped and transformed generations of us, and it went way beyond dance" (Martin).
Resources
Bell, Ken, and Celia Franca. The National Ballet of Canada: A Celebration. Toronto: University of Toronto Press, 1978.
Canadian Who's Who. Vol. XLI, 2006, p. 447.
Library and Archives Canada. Celia Franca fonds (archival fonds). http://www.collectionscanada.gc.ca/pam_archives/public_mikan/index.php?fuseaction =genitem.displayItem&lang=eng&rec_nbr=103696&rec_nbr _list=103696, 27341,807085,803980,801183,106895, 121263,121260,121265,121264
(accessed June 3, 2008).
(Library and Archives Canada holds other archival material concerning Celia Franca. These can be identified using the research tool Archives Search http://www.collectionscanada.gc.ca/lac-bac/search-recherche/arch.php?Language=eng )
Martin, Sandra. "Celia Franca National Ballet Founder: 1921-2007." The Globe and Mail (National Edition), February 20, 2007, p. R5.
Tennant, Veronica. Celia Franca: Tour de force [videorecording]. [Toronto]: Sound Venture Productions, 2006.