Right of Passage
by Glenn Wright, Library and Archives Canada
From 1815 to 1867, many families and individuals emigrated on their own initiative and, once established, often convinced other family members and friends to follow in their footsteps. Private corporations such as the Canada Company assisted emigrants by providing good ships, low fares, implements and tools, and inexpensive land. By the 1830s, churches, charitable organizations and private individuals were active in promoting emigration as a solution to over-crowded urban slums, unemployment and poverty in Britain. The Petworth Emigraton Scheme, for example, sponsored by the Earl of Egremont, sent several thousand working-class people from the south of England to Upper Canada between 1832 and 1837.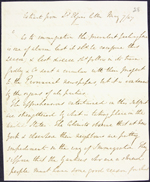 But colonial authorities soon came to believe that not all immigrants were created equal, as many arrived without the skills needed in a pioneer society. Also, those who arrived sick and destitute required care and assistance. In spite of legislation, immigrants often suffered terrible hardships on the long sea voyage and thousands arrived in Canada sick and penniless. Health inspections were initiated, hospitals built and assistance provided for immigrants to find homes and employment. Some officials in Upper and Lower Canada were convinced that too many immigrants were poor, without skills, and not suited to the country's needs. These factors, combined with the deadly cholera outbreaks that arrived on immigrant ships in 1832 and 1847, meant that immigrants were not always looked upon with favour. Immigration was important to all British North American colonies, but authorities wanted to attract people who would adapt well to the New World.
Another serious issue emerged in the 1840s and became particularly acute in the 1860s. Every year, thousands upon thousands of immigrants poured into entry points such as the St. Lawrence River, but only a small number remained in Canada. By the mid-1860s, some 80 percent of immigrants entering Canada were en route to destinations in the United States. It was a dilemma that would vex colonial and, later, Canadian governments for decades.