Home Children
by Ellen Scheinberg, historian, and Angèle Alain, Library and Archives Canada
The juvenile emigration movement saved many British children from almost certain futures of poverty, but Canada offered a mixed blessing to most. While the children were certainly exposed to new opportunities and training, and to healthier living arrangements, it is not clear how many of them had positive childhood experiences in their new homes. Separated from their families and friends and often treated as second-class citizens, many were denied the type of security and love that Canadian-born children enjoyed.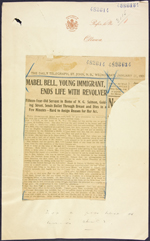 The intent of the juvenile immigration program was to place poor British children with good Canadian families who would raise them and provide them with education, training and proper values. But while children under the age of 11 were typically adopted by families, older children were sent out as boarders or apprentices, working as domestics and farm labourers. Families were instructed to assign age-appropriate work and pay the children for their services. Wages were sent to the agency and held in trust for the children until they reached the age of 21. Some contracts between the distribution homes and the families indicated that the children, particularly the younger ones, should be treated like family. While this was the ideal scenario, most home children simply served as indentured servants. Many of them ate and slept apart from the families and were treated as paid help. In addition, the contract stipulated that if the family was unhappy with the performance or behaviour of a child, they could return him or her to the distribution home. As a result, many children, particularly teenagers, were placed with a number of different families. This, too,undermined their feelings of security.
Despite the program's failings, one thing is clear: juvenile immigrants helped settle and build the country through their labour and the contributions they made to their communities. Canada has benefited tremendously from their presence.