Repatriation
by Angèle Alain and Sylvie Tremblay, Library and Archives Canada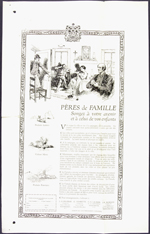 As early as 1839, Lord Durham declared in his report that Canada's greatest challenge was not rebellion or foreign invasion but the culmination of rapidly advancing depopulation and impoverishment. Over the next 20 years, the situation deteriorated to such an extent that, in 1857, the General Assembly of the Province of Canada published a report following a special inquiry into emigration from Lower Canada. The report stated that such a large and unwarranted exodus resulted from a serious dysfunction that society should identify and remedy, if possible. It seemed to have had little effect, as the exodus to the United States continued and reached its peak in the 1880s (150,000 people compared to 80,000 from 1910 to 1919).
In 1888, Father Antoine Labelle, the deputy superintendent of the Quebec Department of Agriculture and Colonization, stated that French Canadians living in the United States could be grouped into three categories: the rich; those who were born in the United States; and farmers who mourned the loss of their former homeland. While the first two categories would certainly be welcome back in Canada, the Quebec and Canadian governments focused on the third "class" of French Canadians since they harboured patriotic feelings towards Canada.
The governments launched a major propaganda campaign complete with advertisements and repatriation officers. Convinced that emigrants would welcome a change after years of factory work, the government sent repatriation officers to the areas where French Canadians had settled. Offering financial aid from the government, and assisted by the local clergy, the officers tried to convince the emigrants, reminding them of the benefits of country life in Canada and, frequently, making them feel guilty about abandoning their homeland. This strategy did not prove effective, and the governments turned their attention to settling regions in eastern Quebec (Rimouski, Matane, Gaspé), northern Quebec (Saguenay, Abitibi), and western Canada. However, "rather than making them long for the farming life, the hardships of factory work changed the colonists' work habits and their tastes [unofficial translation]." (Ramirez, p. 94) The governments therefore had to make trade and industry part of their propaganda messages when promoting the settlement of new regions.