Archived Content
This archived Web page remains online for reference, research or recordkeeping purposes. This page will not be altered or updated. Web pages that are archived on the Internet are not subject to the Government of Canada Web Standards. As per the Communications Policy of the Government of Canada, you can request alternate formats of this page on the Contact Us page.
Behind the Diary
Introduction: Life Writing
The Political Man of Letters: Mackenzie King as Writer and Bookman
Varsity editorial and business board, 1895
Mackenzie King poses with fellow members of the Varsity editorial board at the University of Toronto. In this photograph, King is seated in the front row, second from the right.
In 1906, Mackenzie King, then the Deputy Minister of Labour, published The Secret of Heroism, a small volume commemorating the life of his dear friend Bert Harper, who had drowned in December 1901 while attempting to rescue Bessie Blair (the daughter of the Minister of Railways and Canals), following a skating accident on the Ottawa River. On January 17, 1906, King confided to his diary the almost parental delight that he took in his new publication: "I was very proud of the little volume which I have not cared to let out of my hands since. It is tastefully bound in grey with plain paper label on the back ... The bookmaking is all that can be desired, as it lies beside me I look on [it] as a first child."
King discovers Matthew Arnold, 1901
This page is taken from Mackenzie King's diary for September 7, 1901.
Although The Secret of Heroism was Mackenzie King's first book, it was hardly his first publication. In fact, between 1893, the year that he inaugurated his diary, and 1906, King published nearly 400 articles, contributed mostly to newspapers such as The Globe and The Daily Mail and Empire, and to the Department of Labour monthly The Labour Gazette, which King himself edited. Even in the decades that followed, as his career shifted more to the political realm, King's literary output remained impressive. In addition to many more articles, he published numerous speeches and four more books: Industry and Humanity (1918), The Message of the Carillon (1927), Canada at Britain's Side (1941), and Canada and the Fight for Freedom (1944). Clearly, the "association of letters with politics," which King celebrated in his second book, was something that he pursued with dedication, as testified to by his many diary entries relating to his literary activities.
Literary friendships, ca. 1901-1905
Mackenzie King with three friends: the writer, Norman Duncan, the poet and archivist, Wilfred Campbell, and Henry A. Burbridge. Clockwise from back right, Henry A. Burbidge, Wilfred Campbell, Norman Duncan and Mackenzie King.
King's diary also sheds light on other aspects of his lifelong devotion to literature. In the text, he frequently refers to Matthew Arnold, Tennyson and other authors whom he read and cherished. As well, the diary documents his friendships with writers such as Norman Duncan, Charles Eliot Norton, Mrs. Humphry Ward, Newton McTavish, Duncan Campbell Scott, Wilfred Campbell and Arthur Bourinot. Moreover, King's diary reveals his love of books as artifacts; for it must be remembered that he was very much a bibliophile who took great pleasure in his impressive library at Laurier House, where he was surrounded by books, which, he claimed, "speak of and help to inspire what is best in thought." It was within this inspirational environment, one of the focal points of his life, that King wrote many of his diary entries.
The written word was of great importance to King, both as a reader and as a writer. As his biographer, Robert MacGregor Dawson noted that King "wrote with exceptional ease." This facility, combined with his fondness for literature and books, contributed enormously to the scope and quality not only of King's published writings but also his extensive correspondence and the sustained narrative of his extraordinary diary. To a large degree, King shaped his world by writing words, words, and more words. Bruce Hutchison later seized on this compulsion for writing as a metaphor for King's impact on Canada: "His minute handwriting lay scrawled in black, indelible signature across his native earth."
Building a home for books, 1922
Plan for the third-floor renovation of Laurier House, residence of Mackenzie King. Design by architects Sproat and Roach, January 30, 1922.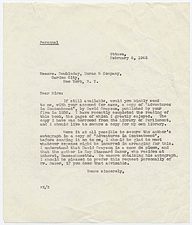 The Prime Minister as book collector, 1945
Letter from Prime Minister Mackenzie King to publishers Doubleday, Doran and Company dated February 5, 1945, requesting a copy of David Grayson's work, Adventures in Contentment for his personal library.