Archived Content
This archived Web page remains online for reference, research or recordkeeping purposes. This page will not be altered or updated. Web pages that are archived on the Internet are not subject to the Government of Canada Web Standards. As per the Communications Policy of the Government of Canada, you can request alternate formats of this page on the Contact Us page.
Behind the Diary
A Private Record: The Diary in King's Lifetime
Part 1: The Handwritten Diary, 1893-1935
Mackenzie King riding with friends, University of Toronto, ca. 1890-1896
Mackenzie King was an avid sportsman who especially enjoyed riding horses. He continued this passion beyond his student years. Often, as Prime Minister, he wrote in his diary that he would venture to Hog's Back along the Rideau Canal in Ottawa. In this photograph, King is the rider in the centre.
When Mackenzie King began his diary in 1893, he declared that he had several objectives. First, writing the journal each day would be an exercise in self-discipline. Second, the diary would enable "the reader...to trace how the author has sought to improve his time." And thirdly, in the future he hoped he and his friends would "find great pleasure...in the remembrance of events recorded...." (Diary, September 6, 1893)
For 42 years he wrote the diary by hand, usually in the evening before going to bed. If he did not have time to write each evening, he sometimes brought the diary up to date several days after the events. For instance, on January 11, 1896, he wrote: "I have been behind in my diary this week & have to fill it up from memory." Most diary entries were quite detailed, but occasionally, when he was particularly busy, they were just quick notes. For example: "Returned from Winnipeg. Arrived Ottawa a.m., Kingsmere, p.m." is the entire entry for June 9, 1902. Other times he left gaps in the diary.
Gaps also occurred in the regular diary when he decided to write a special diary, as he did for his trip to the Far East, 1908 to 1909; his work for the Rockefeller Foundation, 1914 to 1918; and the Imperial Conference of 1923.
Sir Wilfrid Laurier and Mackenzie King, 1912
Portrait of Sir Wilfrid Laurier (1841-1919), Liberal Prime Minister of Canada from 1896 to 1911, and his Cabinet Minister, W.L.M. King (1874-1950).
The years of the handwritten diary cover many important developments in King's life. He was a university student, civil servant, deputy minister, elected politician, Minister of Labour, labour consultant, Leader of the Liberal Party, Leader of the Opposition, Prime Minister for most of the 1920s, then Leader of the Opposition again and finally, near the end of 1935, again Prime Minister. These years were also momentous in world history, covering the end of the nineteenth century and the beginning of the twentieth century, then the First World War, the 1920s, and much of the Great Depression. The diary describes King's academic and professional activities, and also his personal life.
The years of this diary were years of astonishing achievement for King. But there were also some very sad times including the tragic death of his close friend Bert Harper in 1901, and, between 1915 and 1922, the deaths of several members of King's family  -  his sister Bella, his father, his mother, and finally his brother Max. The diary records his emotions in good times and in sad.
He had a Victorian sentimentality, and, when writing about family members and close friends, he expressed his feelings in flowery terms. Of his mother, he wrote: "She is, I think, the purest and sweetest soul that God ever made. She is all tenderness & love, all devotion, knows nothing of selfishness and thinks only of others." (Diary, September 4, 1900) After Bert Harper's death, King wrote of him: "Good, true, brave, noble soul...there are countless evidences of an untiring energy, and ceaseless striving after duty and right." (Diary, January 1, 1902)
Certain preoccupations of King are evident throughout the diary  -  his seriousness, his Christian faith, his feelings of social responsibility, and his interest in politics. But some of his values conflicted with one another. His sense of destiny and his political instincts led him to cultivate the rich and powerful, while his Christian principles required him to claim he was not pursuing money. So, after working for the Rockefeller Foundation for several years and becoming a good friend of John D. Rockefeller, Jr., he wrote: "...my nature will not allow me to become in any way dependent on him...there are men in the world whom the Rockefeller millions cannot command...." (Diary, November 23, 1918)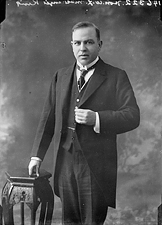 Mackenzie King, Leader of the Liberal Party, October 1919
During the National Liberal Convention of 1919, King did not have time to write his diary each evening, but when it was over he wrote a long and detailed account of the convention that had chosen him as party leader. "The majority was greater than I anticipated...my thoughts were of dear mother & father & little Bell all of whom I felt to be very close to me, of grandfather & Sir Wilfrid also....It has come from God....It is to His work I am called, and to it I dedicate my life." (Diary, August 7, 1919)
When the Liberal Party won the federal election of 1921, King recorded his feelings: "I am glad our Party has won. It is a great victory, but my thoughts are mostly of the dear ones 'gone before' & of the work ahead...above all is Mother dear dear Mother & grandfather." (Diary, December 6, 1921) After being sworn in as Prime Minister, he had the impression of fulfilling his destiny, and he gazed appreciatively at his mother's portrait "in the room in which she died and in which I have entered as Prime Minister of Canada." (Diary, December 29, 1921)
Charles Lindbergh and Mackenzie King at a ceremony in Ottawa, celebrating the Diamond Jubilee of Confederation, July 1, 1927
In the summer of 1927, Canada celebrated the Diamond Jubilee of Confederation, and King, as Prime Minister, played a central role. At the Dominion Day observances, the new carillon in the Peace Tower was inaugurated. King gave a speech which he entitled "The Message of the Carillon," and which was later published as a book. He also laid wreaths on the monuments of Queen Victoria and Sir Wilfrid Laurier. "It was a proud moment,  -  almost a great spiritual triumph," King wrote concerning Laurier. "I looked up to his face in pride & joy  -  recalling I had once told him that that was the place in which his monument wd stand. It has all come about more wonderfully than words can express." Summing up the day, he reflected proudly on "the vastness of the opportunity given me  -  in being prime minister of Canada at this time." (Diary, July 1, 1927)
The next day, Charles Lindbergh joined the festivities. "Col. Lindbergh arrived in the capital about 1:30, and was the centre of everything through the remainder of the time....He was like a young god who had appeared from the skies in human form,  -  all that could be desired in youthful appearance, in manner, in charm, in character, as noble a type of the highest manhood as I have ever seen," King wrote. (Diary, July 2, 1927)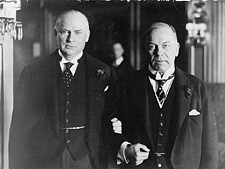 Richard Bedford Bennett and Mackenzie King at a ceremony celebrating the centennial of the incorporation of the City of Toronto, March 6, 1934
When the Conservatives won the election of 1930, King tried to put on a brave face, even to his diary: "The truth is I feel I do not much care, the load is heavy & I wd gladly do literary work for a while. I shall be glad to throw on to Bennett's shoulders the formation of a govt. & finding a solution for unemployment & other problems." (Diary, July 29, 1930) But when the Liberals were returned to power in 1935, King was jubilant. He thought about all his personal and political mentors  -  his mother, father, grandfathers and grandmothers, as well as Gladstone and Laurier. "I knelt in prayer...thanking God for His mercy & goodness & praying for the strength & guidance to do His holy will & remembering before him all the loved ones." (Diary, October 14, 1935)
As well as describing events in his life, King often recorded his expenses in the diary. Furthermore, he sometimes stored letters, notes and newspaper clippings in the diary books. In the 1930s, the diary sometimes includes records of séances. This supplementary material gives it added interest as a document of social history.
Around 1935, King started occasionally dictating the diary to a member of his staff, Lucy Zavitske, who then typed the entries, but King continued to write many passages by hand. After 1936, he usually dictated the diary to his Principal Secretary, Edouard Handy.