Archived Content
This archived Web page remains online for reference, research or recordkeeping purposes. This page will not be altered or updated. Web pages that are archived on the Internet are not subject to the Government of Canada Web Standards. As per the Communications Policy of the Government of Canada, you can request alternate formats of this page on the Contact Us page.
Behind the Diary
A Private Record: The Diary in King's Lifetime
Part 2: The Dictated Diary, 1935-1950
Mackenzie King holding his dog, Pat, and Joan Patteson's dog, Derry, 1938
The two dogs, Pat and Derry, were brothers.
Early in 1935, after many years of writing his diary entries by hand, Mackenzie King periodically began to dictate his diary to a secretary. He liked to dictate each diary entry in the morning, describing the events of the previous day. He then read and edited the typed text, completing it before noon. King was the Leader of the Opposition at this point, having lost the election of 1930 to Richard Bedford Bennett.
After the election in October 1935, King became Prime Minister again. As a result, he had more secretarial staff to help him, and over the next two years the diary gradually became mostly a dictated, typed document. At times, King made additions to the typed diary by hand, or attached memoranda, clippings or correspondence to certain entries. Once Edouard Handy joined King's staff as Secretary in 1936, it was his job to take the dictation of the diary, usually in the evening, and to type the dictated diary entries. The change from a handwritten diary to a typed diary was useful, since King's handwriting, which had been large and fairly legible when he began the diary in 1893, was very cramped and difficult to decipher by the mid-1930s.
The dictated diary from 1935 to 1950 is very extensive. King rarely missed a day, recording every event and activity of his life, from his recollections of his dreams to detailed accounts of cabinet meetings. On the public side, the diary for these years covers the period of the Depression and international tension leading up to the Second World War, the war itself, post-war reconstruction, world issues after the war, and finally, King's retirement. On the private side, King continued to recount the details of his friendship with Joan and Godfroy Patteson, his summers at Kingsmere, the antics of his dogs, and his relationships with other friends, family and staff. His health was also mentioned frequently in the diary.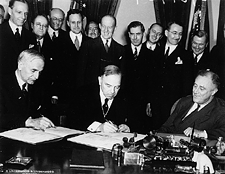 Mackenzie King signing the United States-Canada Trade Agreement in Washington, D.C., November 16, 1935
Seated (left to right) are Cordell Hull, Mackenzie King and Franklin D. Roosevelt.
The diary is complete for the period 1935 to 1950, with one exception. There is no binder for the period November 10 to December 31, 1945. King also wrote a separate Gouzenko diary for September and October 1945 relating to "Russian Espionage Activities."
The diary entries written in early 1935, before the fall election campaign, were fairly brief, recording mainly social events, walks with his friend Joan Patteson and their two dogs Pat and Derry, and time at his Kingsmere summer home. Another frequent topic was King's unhappiness with Prime Minister Bennett's policies for fighting the Depression.
After the election, as King's workload increased, the diary entries took on a more serious tone and became focussed on his work as Prime Minister. His first task was to try to alleviate the effects of the Depression. His measures against the Depression included two trade treaties with the United States, in 1935 and 1938, and a National Employment Commission which led to the Unemployment Insurance Act of 1940.
"This Christmas Give WAR SAVINGS CERTIFICATES and STAMPS"
A miniature of a War poster displayed throughout Canada in December 1942. War Savings Certificates and Stamps, also known as Victory War Bonds, were sold to help finance the Second World War.
With storm clouds gathering in Europe in the late 1930s, King, as Prime Minister and Secretary of State for External Affairs, was involved in a number of international discussions relating to the crisis. In 1937, he travelled to Germany to meet Hitler, telling him that Canada did not want war, but if war came Canada would fight with the Commonwealth. Always cautious, King applauded Neville Chamberlain's appeasement policy in 1938 since it was designed to promote negotiation and peace rather than war. For King, public opinion was very important, especially opinion in Quebec. Although Britain declared war on Germany on September 3, 1939, Canada waited a week before doing the same. King wanted Canada to go into the war united. He also wanted to demonstrate Canada's independence from Britain. He had always said that "Parliament would decide" (Diary, September 6, 1939), and he waited for Parliament's approval.
During the Second World War, the diary took on more importance than ever before. King spent more time every day dictating the "record," creating an excellent and detailed account of his work as Prime Minister during the Second World War. Some entries were as long as 15 single-spaced typed pages. Under King's leadership, Canada played a significant role in the war.
Probably King's greatest crisis in this time period came over conscription. Wishing to maintain national unity, in 1939 and 1940, King promised there would be no conscription. However, in June 1940, the National Resources Mobilization Act was passed, authorizing conscription for home defence for 30 days. In 1942, King held a plebiscite on releasing the government from its promises of 1939 to 1940 and won. King then cautiously announced that Canada would have "not necessarily conscription, but conscription if necessary." (Diary, June 9, 1942) Finally, when it became absolutely necessary, he implemented conscription for overseas service in 1944.
Parliamentary dinner honouring King George VI and Queen Elizabeth at the Chateau Laurier Hotel, in Ottawa, May 20, 1939
Seated (from left to right) at the head table are Mrs. T.A. Crerar, King George VI, Mackenzie King, Queen Elizabeth and Lord Tweedsmuir.
When the war ended, an exhausted King was relieved. On May 7, 1945 he wrote, "This has been a good day  -  a happy day, in some respects, but one in which the burden has been greatly lightened from the knowledge that Nazi militarism has, at last, been destroyed. What a catastrophic close!  -  especially for those who have brought the war on. How just the retribution which has overtaken the followers of Hitler and Mussolini; it is sad beyond words that the innocent have had to suffer so terribly ... for the guilt and the folly, vainglorious ambition of a handful of gangsters. Nothing like it has been known in the whole of history ... The law of peace, work and health begins now to triumph over the law of blood and of death." (Diary, May 7, 1945)
A constant theme in the diary from 1935 to 1950 was King's love for his dog Pat. Pat played a major part in King's life. There were actually three Pats, but the first Pat, who lived from 1924 to1941, was certainly the most important to King. When King was preparing to go to the Imperial Conference in England in 1937, Pat followed him everywhere in the house for the last couple of days before the trip. Pat noticed the servants packing clothes and appeared quite depressed. King wrote, "If ever a dog understood everything that is taking place, this dog does." (Diary, April 23, 1937) When Pat died in 1941 at the age of 17, King was devastated.
In the late 1930s, King recounted a number of his experiences with séances and table rapping in the diary. King and his friend Joan Patteson had many sessions with the little table, receiving messages from the "Great Beyond," from deceased relatives and friends. Most of this ended with the onset of the war, although King continued to record his dreams and to note the position of the hands of the clock whenever anything significant happened in the day.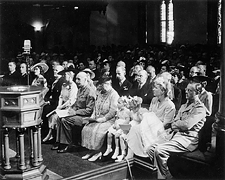 Christening of Princess Margriet, third daughter of Princess Juliana and Prince Bernhard of the Netherlands at Saint Andrew's Presbyterian Church, Ottawa, June 29, 1943
Seated (from right to left) in the front row are Prince Bernhard; Princess Juliana with infant daughter Princess Margriet; Princess Beatrix; Princess Irene; Queen Wilhelmina; the Governor General, the Earl of Athlone; Princess Alice. Mackenzie King is seated in the second row behind Queen Wilhelmina.
King liked to meet famous and important people, especially royalty. He recorded each encounter in great detail in his diary. In 1937, he enjoyed taking part in the pageantry of the coronation of King George VI and Queen Elizabeth. He rode in the procession after the ceremony, from Westminster Abby back to Buckingham Palace and wrote in his diary, "I shall never forget the crowds, all along the route, the multitude of little children, of people in humble walks of life, many of them who had been up all night, sitting on pavements through the greater part of the day, or standing, were cheering and extremely hearty. My carriage was given a great reception all along the way." (Diary, May 12, 1937) During the Royal Tour of May and June of 1939, King travelled with the King and Queen in Canada and briefly to the United States. The tour created great excitement and heightened feelings of patriotism across Canada. It was certainly one of the highlights of King's life. When it ended, he recorded in his diary that it had "surpassed all expectations." (Diary, June 15, 1939)
During the Second World War, Princess Juliana of the Netherlands lived in Ottawa with her family, taking refuge from the Nazi occupation of the Netherlands. King, of course, was involved with the arrangements for their stay. When Princess Juliana's daughter, Princess Margriet was born in 1943, a section of the Ottawa Civic Hospital was declared Dutch soil. King was invited to the christening, attended also by Queen Wilhelmina, Juliana's mother, who made the dangerous journey from England, where she was living during the war.
King always remembered anniversaries and noted them in his diary. They included births, deaths and significant dates in his political career. He carefully noted who remembered certain anniversaries and who congratulated him or failed to congratulate him, on each occasion. He was happy when the Liberal Party honoured him in August 1939, on the twentieth anniversary of his selection as Leader of the Liberal Party and again when they honoured him on his twenty-fifth anniversary as Leader in August 1944. In 1944, King was presented with a statuette of himself and Pat that he cherished. He noted in his diary in 1947, "I have at different times felt that if a memorial to myself should be erected at any time by the country, I would like to have it on the little triangle between the War Memorial, the Langevin Block and Parliament Hill. Perhaps a sort of reproduction of the standing one with little Pat which was given me on my 25th anniversary as Leader of the Party." (Diary, January 1, 1947)
"OTTAWA DISC JOCKEY" ca. 1948
Caricature showing Mackenzie King playing records on Station WLMK, each one depicting one of his office-holding records. The opposition wishes that it had another Petrillo, the president of the American Federation of Musicians, who ordered in 1941 that record companies refuse to allow the playing of records on the radio and juke boxes and who in 1942 ordered musicians to stop recording. This was part of a dispute over royalties.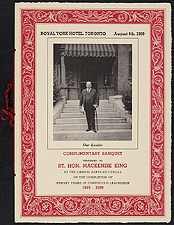 Programme from a banquet held by the Liberal Party of Canada to honour Mackenzie King for serving 20 years as party leader, August 8, 1939
The diary for the last year and a half of King's life, after his retirement as Prime Minister in November 1948, showed a tired and lonely man with failing health, trying to work on his memoirs, but with little success. He hoped that the summer of 1950 at his beloved Kingsmere estate would improve his health, but it was there that he died on the evening of July 22, 1950. King's last entry was made on July 19, 1950, three days before he died. A secretary recorded King's last three days until his death on July 22.