Archived Content
This archived Web page remains online for reference, research or recordkeeping purposes. This page will not be altered or updated. Web pages that are archived on the Internet are not subject to the Government of Canada Web Standards. As per the Communications Policy of the Government of Canada, you can request alternate formats of this page on the Contact Us page.
Behind the Diary
A Private Record: The Diary in King's Lifetime
A Real Companion and Friend: The Role of the Diary in Mackenzie King's Life
Mackenzie King as a student at the University of Toronto, ca. 1891-1896
The role of the diary in Mackenzie King's life was complicated and multi-faceted, changing as time passed, just as King himself changed. When King wrote his first diary entry in September 1893, he was a teenager, an 18-year-old student at the University of Toronto. When he dictated his final entry in July 1950, he was an old man, the 75-year-old former Prime Minister of Canada. It is not surprising that the diary evolved with its author, as it was clearly a complex document created by a complex man.
King explained his original purpose in the first entry in the diary. For him diary-keeping was a challenge: "After being told by many that I could never keep a diary, I decided to make, at least an attempt. Accordingly I secured this book about 4 P.M. this afternoon." (Diary, September 6, 1893) King promised to make the diary a true account of his life and hoped to be able to look back through it later on, and remember past events. Like many other Victorian diarists, he was also embarking on a course of self-improvement:
This diary is to contain a very brief sketch of the events, actions, feelings, and thoughts of my daily life. It must above all be a true and faithful account. The chief object of my keeping this diary is ... that through its pages the reader may be able to trace how the author has sought to improve his time. Another object must here be mentioned and is this, the writer hopes that in future days  -  be they far or near  -  he may find great pleasure both for himself and friends in the remembrance of events recorded .... (Diary, September 6, 1893)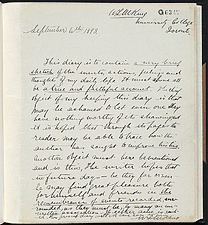 King's first diary entry, September 6, 1893
Mackenzie King wrote the first entry in his diary as an 18-year-old student at the University of Toronto. On this first page, he promised to make the diary a true account of his life and hoped to look back through it later on remembering past events. He also stated that it would be a record of how he would improve his time.
By 1902, the diary had taken an additional role in King's life, as a confidant, a friend with whom he could share his innermost thoughts and feelings. Shortly after the death of his friend Bert Harper, King wrote, "I am taking up this diary again as a means of keeping me true to my true purpose ... it has helped to clear me in my thought and convictions, and it has been a real companion and friend ...." (Diary, January 1, 1902) King never married and although he had an active social life, he remained a lonely man. Without a wife to talk to and children to distract him, he needed the daily ritual of writing or dictating the diary, recording the events of his life, both public and private.
King also used the diary to give himself advice. It was, in a sense, his conscience. In it, he often berated himself for gaining weight or taking a drink or wasting time at parties, then vowed to do better and to work harder. He loved to dance but inevitably regretted it the next day. After one late night at a party, he wrote: "I am getting to the time when my position, work & self-respect all demand less in the way of dancing." (Diary, October 14, 1927)
Furthermore, for King the writing of the diary was a duty, an exercise in self-discipline. In the early years, it was common for him to put aside the diary for several days or even months, but in later years it was very rare that he missed a day. He felt remorse whenever he failed to keep it up. After one lapse he wrote:
After allowing this diary to go unopened for more than a month I take it up again. I have yielded in the interval to the pressure to excuse myself from the task of writing day by day and of taking the easy course of relaxation. I have been forgetful of duty and ideals in a thousand and one particulars, always excusing myself on the grounds of pressure of work. (Diary, June 4, 1922)
As well, King turned to the diary to explain and justify his actions. He might criticize himself for a clever political manoeuvre or poor treatment of a friend, but then would try to rationalize what he had done. When he was worried or depressed, writing things down comforted him. When he had a success politically, he could gloat in his diary.
Always in the background was the thought that someday someone would read his words and gain an understanding of his work and actions. King seemed to know from an early age that his life was important and worth recording. As the diary clearly reveals, King saw himself as a man of destiny and his diary provides a narrative of the fulfilment of that destiny.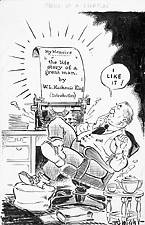 Thrill of a lifetime
Caricature of Mackenzie King looking at the first typed page of his memoirs, subtitled "the life story of a great man."
"Astrology is big nowadays ... there's more acceptance of the spirit world ... Broadbent hasn't a chance ... Clark's got only 27 per cent support ... you don't want the job ... I'm still looking for something to do ...."
In this caricature, the ghost of Mackenzie King approaches former Prime Minister Pierre Elliott Trudeau in January 1980 when Joe Clark is Prime Minister, suggesting that he, King, should run in the next election, since Trudeau might not be interested. Trudeau is reading King's diary in bed.
The diary also served as a place for King to explain his spiritualist activities. Starting in the late-1920s and continuing with varying frequency right up to his death, he described meetings with mediums, séances, table rapping sessions, his interpretations of his dreams, the reading of his tea leaves and the significance of certain numbers. In later years, he always noted the position of the hands of the clock in his diary when anything significant occurred in his life.
During the anxious years of the Second World War, the diary became something more for King. He was keeping a "record" of these momentous times, to be used for his memoirs. He was also consciously creating a record for posterity. In 1941, he wrote, "I spent most of the morning dictating this diary believing the record to be an important one both as regards the present and the future." (Diary, January 29, 1941)
Mackenzie King at Kingsmere, 1950
King relaxes at Kingsmere in a chair presented to him in 1937, in Tyree, Scotland. This is the last photograph taken of King, July 18, 1950.
It is thus surprising that King in his will, ordered that his diary be destroyed, "except the parts which I have indicated are and shall be available for publication or use." He was undoubtedly concerned about all the personal details contained in the diary, accounts of illnesses, psychic research, and dreams, as well as his candid comments on various persons. But there were hints that he did not really want the diary destroyed at all. When illness prevented King from making any progress on his memoirs, he fussed, but he was not too worried. He knew that the basis for the book was already in the diary. Fred McGregor, King's former Secretary, told the story in his book, The Fall and Rise of Mackenzie King. Early in 1950, King hired McGregor to help him with the memoirs, but when McGregor became discouraged with the lack of progress, King told him, "Why worry about it, McGregor, the book is practically written." McGregor thought that King meant that he had some draft chapters completed, but this was not the case. King explained, "Why, the whole story of my life is in the diaries, fifty-eight years of them."
King was obviously proud of the diary. It was the record of his life's work. It also remained a real companion and friend, to the end.