Archived Content
This archived Web page remains online for reference, research or recordkeeping purposes. This page will not be altered or updated. Web pages that are archived on the Internet are not subject to the Government of Canada Web Standards. As per the Communications Policy of the Government of Canada, you can request alternate formats of this page on the Contact Us page.
Behind the Diary
A King's Who's Who Biographies
Dougall Macdougall "Max" King, brother (1878-1922)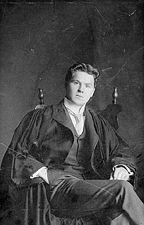 Dougall Macdougall "Max" King, 1899
Max King was the younger brother of Mackenzie King. A physician and author of medical works, Max suffered from tuberculosis and later a debilitating muscular disease. He died in 1922 at the age of 44, leaving his wife May and twin sons. This photograph is from King's personal collection.
Dougall Macdougall King, known as "Max" or "Mac" to family and friends, was Mackenzie King's younger brother. After a sickly childhood he studied medicine at the University of Toronto, and became a doctor. In 1902, he went to South Africa, where Canadian forces were fighting in the Boer War. He served in the medical corps. After that, in a search for employment, he headed to Denver, Colorado, and to Bisbee, Arizona. Following a sudden illness and emergency surgery, he returned to Canada, settled in Ottawa and began to establish his own medical practice.
Max married May Wookey in 1911. Their twin sons, Arthur Ingleson King and William Lyon Mackenzie King, were born January 2, 1913. Shortly after that, Max fell ill with what was thought to be pneumonia. His brother took him to the Sainte-Agathe Sanitarium north of Montreal to recover. It was there that the proper diagnosis was made  -  advanced tuberculosis with little hope of recovery. Mackenzie King refused to accept the prognosis and paid all the expenses for Max and his family to go to Denver where he could be treated at the Agnes Sanitarium. Max recovered and the family remained in Denver. He wrote The Battle with Tuberculosis and How to Win It, which was published in 1917. Within two years Max fell ill again, this time with a debilitating muscular disease. He suffered greatly and became paralyzed. During his final illness, Max dictated a second work, Nerves and Personal Power.
In January 1922, shortly after becoming Prime Minister, Mackenzie King went to see his brother for the last time. The diary gives a detailed account of this very sad visit. (Diary, January 5-8, 1922). Max died March 18, 1922. King wrote: "It has been a terrible business, but he has set a noble & brave example.... I shall miss Max greatly. For 8 years we have corresponded every week & he has been constantly in my thoughts. He was the only one left who is really interested in my life & work." (Diary, March 18, 1922)