Archived Content
This archived Web page remains online for reference, research or recordkeeping purposes. This page will not be altered or updated. Web pages that are archived on the Internet are not subject to the Government of Canada Web Standards. As per the Communications Policy of the Government of Canada, you can request alternate formats of this page on the Contact Us page.
Behind the Diary
A King's Who's Who Biographies
John Buchan, 1st Baron Tweedsmuir (1875-1940)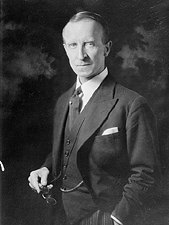 John Buchan, 1st Baron Tweedsmuir, 1936
John Buchan was a well-known British writer of fiction (including books such as The Thirty-Nine Steps), and of poetry and history. He and Mackenzie King became good friends. In 1935, Buchan, now Lord Tweedsmuir, became Governor General of Canada. He died in 1940, the first Governor General since Confederation to die in office. This photograph is from King's personal collection.
John Buchan was born in Perth, Scotland, and was educated at Oxford. He became a well-known writer of fiction (including books such as The Thirty-Nine Steps), poetry and history (including books such as A History of the Great War and Lord Minto). He was Chief Literary Adviser, and later a Director of the publishers Thomas Nelson & Son, from 1906 to 1929. During the First World War, he served as an intelligence officer. He was a Member of Parliament in Britain from 1927 to 1935.
When Mackenzie King was in England in 1919, his friend Violet Markham introduced him to John Buchan, and they became friends. In 1924, Buchan and his wife visited King, staying with him briefly at Laurier House and Kingsmere. King described Buchan as "a beautiful, noble soul kindly & generous in thought & word & act, informed as few men in this world have ever been, modest, humble, true, a man after God's own heart." (Diary, September 15, 1924)
Buchan dedicated his book Augustus: "To my friend William Lyon Mackenzie King, Four Times Prime Minister of Canada."
Buchan was appointed Governor General of Canada in February 1935 and took office in November of that year. At this time, he was given the title 1st Baron Tweedsmuir. King's diary gives a description of the arrival of the Tweedsmuirs and the installation of Lord Tweedsmuir as Governor General. (Diary, November 2, 1935)
Tweedsmuir travelled widely in Canada and he instituted the Governor General's Literary Awards. He died on February 11, 1940, the first Canadian Governor General since Confederation to die in office.
A year after Tweedsmuir's death, King continued to think of him as being, with Norman Rogers and O.D. Skelton, one of "the three men who spiritually were closer to me than any other." (Diary, January 28, 1941)
In 1955, the John Buchan Papers were purchased from the Tweedsmuir family by Queen's University, through the Office of the Rector, L.W. Brockington. A microfilm copy is available at Library and Archives Canada (MG27-IIIA5).