Archived Content
This archived Web page remains online for reference, research or recordkeeping purposes. This page will not be altered or updated. Web pages that are archived on the Internet are not subject to the Government of Canada Web Standards. As per the Communications Policy of the Government of Canada, you can request alternate formats of this page on the Contact Us page.
Behind the Diary
A King's Who's Who Biographies
Elizabeth Ann "Lily" Hendrie (1877-1975)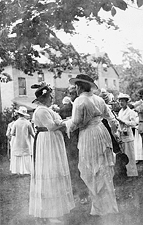 Elizabeth Ann "Lily" Hendrie, ca. 1900-1905
King first met Lily Hendrie in Hamilton, Ontario, in 1902, and found her charming. They maintained a warm friendship, through correspondence and occasional meetings, for the rest of King's life. This photograph of Lily Hendrie at a garden party (centre, with her back to the photographer) is from King's personal collection.
Mackenzie King met Lily Hendrie in 1902 during a trip to Hamilton, Ontario. In his diary he wrote how she charmed him and that "She rouses the whole of my nature & makes me feel I could fight worlds." (Diary, September 25, 1902) From their first meeting, King and Lily maintained a warm friendship through correspondence and occasional meetings. In 1924, Lily Hendrie was widowed.
In the last few years of King's life, they saw each other a number of times. The diary contains many references to Lily. She visited Ottawa in 1948 and, after dinner at Laurier House, King escorted her to the theatre. (Diary, January 5, 1948) They were both in London in the fall of 1948 and saw each other a number of times. The following year she made another trip to Ottawa and was again a dinner guest at Laurier House. (Diary, March 10, 1949) In his diary, King mentioned "Lily Hendrie's association with the past and our close friendship over many years...." (Diary, January 5, 1948)