Archived Content
This archived Web page remains online for reference, research or recordkeeping purposes. This page will not be altered or updated. Web pages that are archived on the Internet are not subject to the Government of Canada Web Standards. As per the Communications Policy of the Government of Canada, you can request alternate formats of this page on the Contact Us page.
Behind the Diary
A King's Who's Who Biographies
Ernest Lapointe (1876-1941)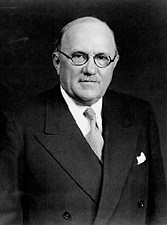 Ernest Lapointe
Ernest Lapointe, a Quebec lawyer, was first elected to the House of Commons in 1904 and was re-elected in every federal election from then until his death in 1941. He was a dominant figure, representing Canada at a number of international events, including meetings of the League of Nations, several Imperial Conferences, and the Coronation of King George VI. He served in all of King's ministries during his lifetime, and was recognized as King's Quebec lieutenant and one of his most trusted advisers.
Ernest Lapointe was born on October 6, 1876, in Saint-Éloi, Quebec. He was educated at Rimouski College and Laval University, and obtained the following degrees: B.A., LL.B, LL.D. After winning the Laval University Prince of Wales Medal in 1895, he was called to the Bar in July 1898 and practised law in Rivière-du-Loup and Quebec City. Soon after, he was appointed Attorney for the City of Fraserville, then Crown Prosecutor for the District of Kamouraska. He was attracted to politics, where his public spirit, and dynamic oratorical skills served him well. In 1904, Lapointe was elected by acclamation to the House of Commons (Kamouraska) for the Liberal Party. He was re-elected in 1908 and in every federal general election thereafter until his death in 1941. In 1919, Lapointe resigned as M.P. for Kamouraska so that he could run for election in a federal by-election in Quebec East, the riding left vacant by the death of Sir Wilfrid Laurier.
Lapointe became a member of Mackenzie King's first Cabinet when the Liberals took office on December 29, 1921. He served as Minister of Marine and Fisheries (1921-1924) and Minister of Justice and Solicitor General (1924-1925). Lapointe shared King's vision of Canadian autonomy from Great Britain, and was soon recognized as King's Quebec Lieutenant and one of his most trusted advisors.
After the Liberals returned to power in 1926, Lapointe was appointed Minister of Justice and Attorney General (1926-1930) and Secretary of State (1926). He was again appointed Minister of Justice and Attorney General (1935-1941) when the Liberals won the 1935 federal general election. Lapointe was sworn to His Majesty's Privy Council (United Kingdom) in 1937, and served as Acting Secretary of State (1939-1940). In 1939, respect for Lapointe and his guarantee that the federal Liberal government would not conscript Canadians for overseas war service, helped garner French Canadian support for Canada's participation in the Second World War.
The first half of the twentieth century was pivotal in the development of Canada as an independent nation. Ernest Lapointe was a dominant figure in representing Canada during this period, as witnessed by his participation in the following international events: League of Nations (1922), Pacific Fisheries Treaty with the U.S. (1923), Imperial Conference (1926), Canberra, Australia Inauguration (1927), Naval Disarmament Conference (1927), Imperial Conference (1929), Vimy Memorial (1936), King George VI Coronation (1937), Imperial Conference (1937), and the League of Nations Assembly (1938).
In November 1941, Lapointe was diagnosed with an incurable illness and was confined to a bed in a Montreal hospital. King travelled by train to see him and recorded the following in his diary after one such visit: "He then turned to me and said we had been great associates, and reached out his hand toward mine. When he said that, I saw that he was becoming emotionally affected, I said to him no man ever had a truer friend. But for him, I would never have been P.M. nor would I have been able to hold the office as I had held it through the years. That there was never a deeper love between brothers than existed between us. That we had never had a difference all the years that we had been associated together, in thought and work alike. That I was grateful to him from the bottom of my heart." (Diary, November 19, 1941)
Lapointe passed away on November 26, 1941, after losing a short struggle with cancer. Even so, Quebec remained a federal Liberal stronghold for years after his death.
Library and Archives Canada holds the records of Ernest Lapointe (MG27-IIIB10).