Archived Content
This archived Web page remains online for reference, research or recordkeeping purposes. This page will not be altered or updated. Web pages that are archived on the Internet are not subject to the Government of Canada Web Standards. As per the Communications Policy of the Government of Canada, you can request alternate formats of this page on the Contact Us page.
Behind the Diary
A King's Who's Who Biographies
Violet Markham (1872-1959)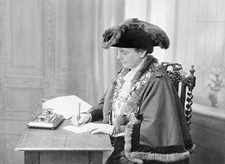 Violet Markham, 1927
Violet Markham was a leading English Liberal and social reformer. She and King met in 1905 and they became good friends. She gave him financial support after his electoral defeat in 1911 and again when his brother Max was ill. She and King maintained an active correspondence for 45 years, and she is mentioned frequently in the diary. This photograph is from King's personal collection.
Violet Markham was a leading English Liberal and social reformer. She and Mackenzie King met in 1905, when she was staying at Rideau Hall in Ottawa as a guest of the Governor General, Lord Grey, and his family. She and King became friends, and kept up an active correspondence for 45 years. King visited her when he was in England and she visited him on her occasional trips to Canada. The diary contains many references to her.
Deeply religious and widely travelled, Violet Markham shared King's interest in labour relations and social work. The daughter of a wealthy mine owner, she provided financial support to King on several occasions, notably after his electoral defeat in 1911. When King's brother Max was ill with tuberculosis, Violet sent King a substantial sum of money, which he used to send Max to Colorado for treatment. King wrote: "Violet Markham's help has made possible my brother & May [Max's wife] being together and his going to Colorado and consequently saving his life." (Diary, January 1-6, 1914) Toward the end of King's life, Violet was looking into the possibility of sending him more financial help, although he did not need it then.
In 1915, Violet Markham married James Carruthers, but she continued to be known by her maiden name. She wrote several books, including Return Passage (1953) and Friendship's Harvest (1956). The latter contains a chapter on Mackenzie King.
King wrote of Violet: "How wonderfully true and kind and generous she has been!.... Her help has meant much to me, and her presence is like that of an angel...." (Diary, May 13, 1914)