Archived Content
This archived Web page remains online for reference, research or recordkeeping purposes. This page will not be altered or updated. Web pages that are archived on the Internet are not subject to the Government of Canada Web Standards. As per the Communications Policy of the Government of Canada, you can request alternate formats of this page on the Contact Us page.
Behind the Diary
A King's Who's Who Biographies
Pat I (1924-1941)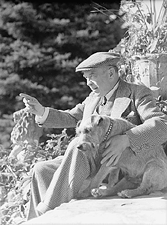 Pat I, with Mackenzie King, 1940
Pat I was Mackenzie King's first dog, an Irish Terrier given to him by his friends the Pattesons, in 1924. (King called him, simply, "Pat." The designation "Pat I" is used to distinguish this dog from the two later dogs of the same name.) King became very fond of him, and mentioned him in his diary, almost every day for 17 years. Pat I died in 1941. This photograph was taken by the famous Canadian portrait photographer, Yousuf Karsh, at Moorside Cottage at Mackenzie King's estate.
In July 1924, Mackenzie King's close friends the Pattesons gave him an Irish terrier. This was a brother of the Pattesons' dog Derry, born January 3, 1924. King named the dog Pat, and became extremely fond of him. Pat was mentioned in King's diary, almost every day for the next 17 years. He was King's close companion. He often went with King for morning walks on the grounds at Kingsmere, and shared evening snacks of oatmeal cookies and Ovaltine.
Canadians in general, and King's fellow Liberals in particular, knew of his affection for his dog. On the 25th anniversary of Mackenzie King becoming Leader of the Liberal Party, he was given a statuette of himself and Pat.
As Pat grew old, he developed several health problems, and he died on July 15, 1941. Mackenzie King buried his "Little Angel Dog" near the ruins at Kingsmere, next to the grave of Derry.
Looking back on the events of 1941, on the last day of the year, King wrote: "As I think it all over tonight, the event that touched me most deeply of all was perhaps the death of little Pat. Our years together, and particularly our months in the early spring and summer, have been a true spiritual pilgrimage. That little dog has taught me how to live, and also how to look forward, without concern, to the arms that will be around me when I, too, pass away. We shall all be together in the Beyond. Of that I am perfectly sure." (Diary, December 31, 1941)