Archived Content
This archived Web page remains online for reference, research or recordkeeping purposes. This page will not be altered or updated. Web pages that are archived on the Internet are not subject to the Government of Canada Web Standards. As per the Communications Policy of the Government of Canada, you can request alternate formats of this page on the Contact Us page.
Behind the Diary
A King's Who's Who Biographies
Pat II (1936-1947)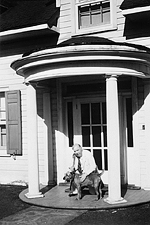 Pat II, with Mackenzie King, 1947
Pat II was King's second Irish Terrier. He came to King from the Pattesons in late 1941. King was very fond of this dog and mentioned him often in his diary. Pat II died in 1947. This photograph is from King's personal collection.
Some time before the death of their dog, Derry, Mackenzie King's friends the Pattesons acquired a second Irish terrier. They named him Pat, which had been the name of King's first dog, and King often referred to him in the diary as "the other Pat."
King and Pat II may have developed an affection for each other before the death of Pat I or shortly afterwards. Returning home after a trip to England in the late summer of 1941, King wrote: "The little dog Pat seems to have missed me greatly while I was away. The children and J. and G. all say he has been a different dog since I came back. It is very touching this affection of animals." (Diary, September 9, 1941) By mid-October 1941, Pat II seemed to have left the Pattesons to stay with King.
In May 1943, Pat II had a painful encounter with a porcupine at Kingsmere, which was reported in a number of Canadian newspapers.
Pat II died on August 11, 1947 of cancer. He was to undergo surgery, but, when it was found the disease was too far advanced, he was put to sleep to spare him further pain. King buried him near the "Bethel Stone" at Kingsmere.