Archived Content
This archived Web page remains online for reference, research or recordkeeping purposes. This page will not be altered or updated. Web pages that are archived on the Internet are not subject to the Government of Canada Web Standards. As per the Communications Policy of the Government of Canada, you can request alternate formats of this page on the Contact Us page.
Behind the Diary
A King's Who's Who Biographies
Pat III (1948-?)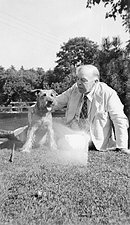 Pat III, with Mackenzie King, ca. 1948
In 1948, as he prepared for retirement, King looked for another dog. His Principal Secretary Edouard Handy arranged for the acquisition of a new puppy, who became Pat III. This photograph is from King's personal collection.
The arrival of the third Pat was organized by King's Principal Secretary, J.E. Handy. King sought out a new dog in 1948, as he was preparing to retire from politics. The four-month-old puppy was without a name when he arrived at Kingsmere on July 19. Initially King did not make a firm commitment, but he had the dog stay for a while, and by August 7, he had decided to keep him. King wrote: "I have in my hands licence - Ottawa - No. 1, 1948 which was purchased at the beginning of the year in the hope that I would have a little dog before the year was out. Now it goes to Pat III. The licence is all the more welcome in that it is heart shaped." (Diary, August 7, 1948)
The dog charmed King by portraying a similar personality to that of the other two dogs. The diary contains numerous appreciative references to him, such as: "Little Pat lay on the bed and was very friendly. He is becoming a dear dog." (Diary, December 27, 1949) King did not develop as strong an affection for Pat III as he had for the earlier Pats, but this was probably because his health was failing and his time with Pat III was fairly short. After King's death in 1950, Pat III was given to friends to be cared for.