Archived Content
This archived Web page remains online for reference, research or recordkeeping purposes. This page will not be altered or updated. Web pages that are archived on the Internet are not subject to the Government of Canada Web Standards. As per the Communications Policy of the Government of Canada, you can request alternate formats of this page on the Contact Us page.
Behind the Diary
Mackenzie King Slept Here: The Residences of Mackenzie King
Kingsmere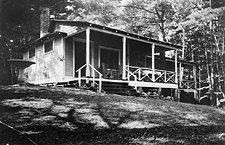 Mackenzie King's first cottage at Kingsmere, Quebec
Mackenzie King built this cottage called Kingswood in 1904. Later, several additions were added.
On a cycling trip with his friend Bert Harper in the autumn of 1900, Mackenzie King discovered Kingsmere, in the Gatineau Hills of Quebec, about 20 kilometres from Ottawa. Mackenzie King was enchanted by the beauty of this area, and it became one of the great preoccupations of his life.
In 1901, King and Harper spent much of the summer at Kingsmere, staying at a local inn. Their friend Marjorie Herridge and her family were also there, and King's mother came for a while. King enjoyed the summer so much that, in September, he arranged to buy a lot by the lake. For this, he paid $200. (Diary, September 8, 1901) In 1903, he built a four-room cabin, Kingswood. In September of that year, he bought more land, part of a small wooded hillside sloping toward Kingsmere Lake, and in subsequent years he gradually expanded his holdings. Eventually, he owned about 500 acres of land, two houses and three cottages.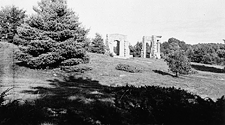 The ruins at Kingsmere, Quebec, ca. 1935
In the mid-1930s, King began constructing faux ruins on his Kingsmere property, using discarded materials from buildings being demolished in Ottawa and other famous buildings.
He did some landscaping himself but hired local workmen for major projects. He added roads, pathways, lawns and stone walls. He also constructed elaborate faux ruins, using discarded material from demolished buildings of Ottawa, and other famous buildings.
In the 1920s, Mackenzie King tried his hand at farming at Kingsmere. He purchased a number of sheep in addition to a horse, cow, chickens and beehives. The livestock did not do well, but King also had a large and successful garden with a wide variety of fruits and vegetables. The garden and the honey-producing beehives were kept active until his death in 1950.
Mackenzie King with his sheep at Kingsmere, Quebec, 1927
In the 1920s, Mackenzie King tried his hand at farming at Kingsmere. He purchased a number of sheep, a horse, a cow and some chickens. This was a short-lived experiment because the livestock did not do well.
From his earliest days at Kingsmere, he enjoyed entertaining his family members and close friends there. While he was Prime Minister, he spent a lot of time at Kingsmere and had staff members come out to work on tasks such as correspondence. He spent most of the summer months there, commuting to Ottawa when necessary. In the winter, he lived at Laurier House, but made occasional trips to Kingsmere to walk through the grounds.
Many passages in the diary reflect King's deep affection for Kingsmere. For example, he wrote: "It is very lovely here, & being again with the trees, the stars, the birds, the breezes & the skies makes one's heart rejoice." (Diary, July 14, 1915) The next year he wrote: "I came out to Kingsmere on Monday night to my own cottage. Such happiness as I felt in being under my own roof, amid the trees, away from the world of humans and with nature and solitude for a time." (Diary, June 22, 1916)
"The Farm" at Kingsmere, Quebec, 1950
From about 1939 onwards, Mackenzie King used "The Farm" as his main residence at Kingsmere.
In February 1950, Mackenzie King wrote in his last will and testament that Kingsmere had been an important part of his life for nearly 50 years and that he saw it as being his true home.
It was at Kingsmere, on July 22, 1950, that he died. In his will he bequeathed the estate to "the Government of Canada ... in trust for the citizens of Canada." He expressed the hope that the lands would be maintained "as nearly as possible in their present state; that they will be developed as parkland, and that they will form a wild life sanctuary...." To a large extent, King's wishes have been respected. Kingsmere is now maintained by the National Capital Commission, and every year thousands of visitors come to Kingsmere, to tour the buildings, to admire the gardens and ruins, and to walk or ski on the vast estate.
It should be noted that the name "Kingsmere" was used before the arrival of Mackenzie King and it also predates Dr. W.F. King (1854-1916), who worked in the area for the geodetic survey. Kingsmere was not named for either the Prime Minister or the surveyor, but it is a pleasant coincidence that the name is reminiscent of both these men.