Archived Content
This archived Web page remains online for reference, research or recordkeeping purposes. This page will not be altered or updated. Web pages that are archived on the Internet are not subject to the Government of Canada Web Standards. As per the Communications Policy of the Government of Canada, you can request alternate formats of this page on the Contact Us page.
Behind the Diary
Politics, Themes, and Events from King's Life
Mackenzie King in Berlin
William Lyon Mackenzie King, Canada's prime minister for 22 years, visited Berlin, Germany, three times during his lifetime; first in 1900, as a student, and then in 1937 and 1946, as Prime Minister of Canada. In his diary, one of the most fascinating documents in Canadian history, he recorded these visits in great detail.
Part of Mackenzie King's interest in Berlin, Germany, stemmed from the fact that he was born, and lived his early life, in Berlin, Ontario. Although the name of the Ontario town was changed in 1916 to Kitchener, King always thought of it as Berlin. When he was in Berlin, Germany, he often referred to his birthplace of the same name in Canada.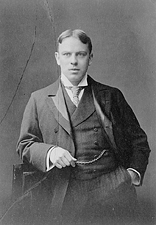 Mackenzie King, 1899
King first visited Berlin, Germany in March, 1900 at the age of 25.
King arrived in Berlin for the first time on March 21, 1900, at the age of 25 and stayed for two months. He was on a travelling scholarship from Harvard University and had been in England since October 1899. One of Harvard's top graduate students in the social sciences, he was doing research for his Ph.D. thesis on labour difficulties in the clothing industry.
In Berlin, King stayed in a house at 70 Kaiserin Augusta Strasse with Professor Anton Weber, his wife and his two daughters, Dorothea and Susi. He grew to like them very much. King was introduced to the Webers by the Reverend J.F. Dickie, the minister of the American Church in Berlin and an old friend of the King family. Dickie had married King's parents and had baptized all their children.
As part of his work on his thesis, King read and translated German books and articles on labour problems. He listened to lectures at the University and tried to improve his spoken German. Although he worked hard, he gradually became caught up in a round of social activities, and felt guilty that he was not accomplishing more. He was invited to teas, dinners and parties and met a number of young American and English women. He also spent a lot of time with Dorothea Weber and her friends. After a party lasted until four in the morning, he wrote in his diary, "I could not help thinking of the waste and folly of the whole affair. What fools we mortals be!" (Diary, May 5, 1900)
Berlin was a city of over three million people in 1900, but the house where King stayed was very near the Tiergarten, a park of several hundred acres. He walked in the park nearly every day and wrote to his parents on April 16, "I am getting much pleasure out of the Thiergarten [sic] close by, watching the Spring as it sends the buds and leaves out on the trees, and brings new birds and brighter days." King had brought a bicycle with him to Berlin which he rode all over the city. One day while out on his "wheel" he met Kaiser Wilhelm II and his entourage, horseback riding in the Grunewald, a forested park in Berlin. King raised his cap to the Kaiser but when the Kaiser looked at him " pretty hard," he wondered if he had raised it high enough. (Diary, April 11,1900)
While in Berlin, King was hoping for an offer of a teaching position at Harvard. He anxiously watched for a letter, but with no result. A month after leaving Berlin he was offered two jobs: a part-time position at Harvard and a position as editor of the Labour Gazette in Ottawa. After much soul searching, he decided to go to Ottawa.
Proposed itinerary for Mackenzie King's visit to Berlin, Germany, 1937
His conclusion at the end of his time in Berlin was that he had spent too much time in English society and not enough time conversing in German. Although he found Germany too militaristic, he had enjoyed his stay in Berlin. It was hard to leave the Weber family, and tears were shed when they said goodbye. Still in touch years later, on Christmas Day, 1927, King wrote to Dorothea Weber Rushbrooke, "I never think of you and your family without reviving some of the best memories of my life."
In June 1937, Mackenzie King, now 62, returned to Berlin to visit the German Chancellor, Adolf Hitler. King had thought of making the visit the year before, but had been advised against it by O.D. Skelton, his Under Secretary of State for External Affairs. Canada's official foreign policy in the late 1930s was isolationist. Nothing was to interfere with the maintenance of national unity. But King had been a very successful labour mediator, and felt that he could bring these talents to bear on the threat of another world war. King had not had any formal plans to visit Hitler when he travelled to England for the Coronation of George VI, but decided to go after receiving an invitation from Joachim von Ribbentrop, the German Ambassador to Britain, and the encouragement of the British government.
Arriving in Berlin on June 27, King registered at the Adlon Hotel. For the first two days he was taken to see youth camps, labour camps, the Berlin Zoo and the Olympic Stadium, where he watched a number of sports competitions from the seat that Hitler had occupied during the 1936 Olympic Games.
Mackenzie King at the opening ceremonies of the All-German Sports Competition at the Olympic Stadium in Berlin, Germany, 1937
On the morning of June 29, King met with Hermann Goering, the German Air Minister. They talked for an hour and a half about trade between Canada and Germany, Canada's relationship with Britain, and German expansion in Europe. When Goering declared that England was trying to control Germany's actions, King replied that what "England was most concerned about, was danger of some quick, precipitate action being taken in any place, which might set the whole of Europe aflame." (Diary, June 29, 1937) At the end of the interview, King invited Goering to visit Canada, and Goering responded that he would like to do some big game hunting for elk or bear. King promised to make the arrangements if he should decide to come.
King went next to the Hindenburg Palace for his interview with Hitler. The interview lasted for more than an hour. King showed Hitler the biography of himself by Norman Rogers and pointed out a picture of the cottage where he was born in Berlin, Ontario. "I told Herr Hitler that I had brought this book with me to show him where I was born, and the associations which I had with Berlin, Germany, through Berlin, Canada." (Diary, June 29, 1937) King spoke of being in Berlin 37 years before and living with the Webers on the other side of the Tiergarten.
Mackenzie King with German officers at the Olympic Stadium in Berlin, Germany, 1937
King praised the constructive work of Hitler's regime and then mentioned the fear and suspicion caused by German rearmament. Hitler indicated that Germany was rearming to gain respect and blamed all of Germany's difficulties on the Treaty of Versailles. He told King, "so far as war is concerned, you need have no fear of war at the instance of Germany. We have no desire for war; our people don't want war, and we don't want war." (Diary, June 29, 1937)
King stressed the fact that Canada was a free and independent nation, even though it was a part of the British Empire. He said, however, that in the face of an act of aggression on the part of any country, all parts of the Commonwealth would stand together. When Hitler complained about the British, King assured Hitler that England wanted peace. At the end of their meeting, Hitler gave King an autographed, framed photograph of himself.
King was impressed by Hitler. He wrote, "My sizing up of the man as I sat and talked with him was that he is really one who truly loves his fellow-men, and his country, and would make any sacrifice for their good." (Diary, June 29, 1937) Hitler appeared to be "a man of deep sincerity and a genuine patriot." (Diary, June 29, 1937) King saw similarities between himself and Hitler, writing, "As I talked with him, I could not but think of Joan of Arc. He is distinctly a mystic .... He is a teetotaller and also a vegetarian; is unmarried, abstemist in all his habits and ways." (Diary, June 29, 1937)
After the interview with Hitler, King walked through the Tiergarten and found the house where he had lived with the Webers in 1900. He reflected that he had lived in one of the best parts of Berlin and had been in the home of an exceptionally fine family. That night he attended the Opera and sat in the former royal box, in the seat where Hitler usually sat when he was there.
On June 30, King called on the German foreign minister, Baron von Neurath. Neurath spoke of Hitler being opposed to war, of the good work Hitler had done since he took power and then alluded to the Jewish population of Berlin. "He said to me that I would have loathed living in Berlin with the Jews, and the way in which they had increased their numbers in the city ... He said there was no pleasure in going to a theatre which was filled with them .... They were getting control of all the business, the finance .... It was necessary to get them out to have the German people really control their own City and affairs." (Diary, June 30, 1937) They also discussed the Germans' dislike for the Americans. Neurath then agreed with King's suggestion that everyone should try to overcome prejudices and promote goodwill. King went to the diplomat's house for lunch and enjoyed it very much. He found Neurath very kind and pleasant.
King was happy when he left Berlin. "Looking back on the German visit, I can honestly say it was as enjoyable, informative and inspiring, as any visit I have ever had anywhere. Indeed I doubt if I ever had four days which were more interesting or indeed comparable in significance." (Diary, June 30, 1937) He was "tremendously relieved" and believed there would be no war. In hindsight we can wonder at his impressions of Hitler. He was hoping, of course, that war could be averted. Once the war began, though, King's opinion of Hitler changed radically.
On August 20, 1946, King, now 71, flew to Berlin from the peace conference in Paris, to view the damage done by the war. Arnold Heeney, Secretary to the Cabinet, accompanied him. They stayed with Maurice Pope, the head of the Canadian military mission to Berlin.
King was shocked at the destruction of Berlin. He wrote, "Shortly before 10, we started out to see Berlin. It was all very familiar but an appalling sight. Tiergarden [sic], one waste of ground. Beautiful buildings demolished beyond recognition. The whole centre of the city all but totally destroyed. I recognized building after building – a complete destruction. So strange to pass the Adlon Hotel where I stayed when I met Hitler." (Diary, August 21, 1937)
King went down into the bunker where Hitler and Eva Braun had committed suicide on April 30, 1945. He wrote, "Most interesting of all was being taken down to the bunker which Hitler had had constructed during the war as a place of final refuge. We went down three or four flights of stone stairs. Came to a series of rooms – one dark room in which he did a certain amount of his work. Shown from there into his own bedroom which adjoined the bedroom that Eva Braun had .... People had torn away tops of sofas and chairs and the like as souvenirs. While passing through the large hall, I picked up a piece of a bit from the wall which I thought was an interesting souvenir. Was also given a tile from Hitler's bathroom, off from the main hall." (Diary, August 21, 1946) Outside, they were shown where the bodies of Hitler and Eva Braun had been burned. "In one room we were shown the sofa that had a lot of blood on, where it was thought Eva Braun had committed suicide. The thought went through my mind as I went into the basement how these men had degraded themselves, so completely had they reverted to animal form of lower life – something that corresponds to vermin and rats and the like, with holes in the ground." (Diary, August 21, 1946)
King insisted on looking for the house at 70 Kaiserin Augusta Strasse where he had lived with the Webers in 1900. It was difficult because everything was rubble. Arnold Heeney wrote in his memoirs that they looked for the house for more than an hour, "until at last our guides, with suspicious unanimity, announced that the elusive objectives had been identified." King got out of the car to have his picture taken.
From Berlin, King went on to Nuremberg, the site of the war crimes trials. He watched some of the proceedings from the front row of the gallery, spotting Goering, Neurath and Ribbentrop. King was glad that none of them looked directly at him or tried to catch his eye. King blamed Hitler and the men themselves for their fate, writing, "It really was a horrible and pathetic, tragic sight to see the men and to think that that particular group of men under one leader – a maniac – a devil incarnate – had been able to bring destruction upon themselves, their country and the world to the extent they have and, worst of all, destruction to moral standards." (Diary, August 22, 1946) King noted that Goering had shrunk to half the size he remembered him, and Ribbentrop looked a shadow of himself. King felt sympathy for Neurath. "A very pathetic solitary figure. When one thinks of how pleasant he was as a gentleman in a high position, honourable, graduate of Oxford, etc., it seems an appalling fate – an example of a man who got in with the wrong gang." (Diary, August 22, 1946) In October 1946 Goering committed suicide just before he was to be hanged. Ribbentrop was hanged in November 1946. Neurath was sentenced to 15 years in prison.
To King this last trip to Berlin in 1946 was the completion of a circle, "a circle which began in Berlin, Canada, later Berlin, Germany, and before the war, with Hitler and his friends, and now with war over, some of the latter dead and some about to be hanged. A strange story of the inevitableness of the moral law and retribution." (Diary, August 20, 1946)