Archived Content
This archived Web page remains online for reference, research or recordkeeping purposes. This page will not be altered or updated. Web pages that are archived on the Internet are not subject to the Government of Canada Web Standards. As per the Communications Policy of the Government of Canada, you can request alternate formats of this page on the Contact Us page.
Educational Resources
Facts
Mackenzie King and spiritualism...mysterious!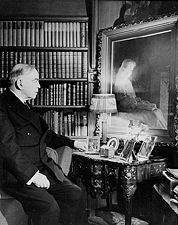 The Rt. Hon. W.L. Mackenzie King sitting in front of the J.W.L. Forster painting of his mother, Isabel King, in the library at Laurier House
Believe It Or Not... Mackenzie King was a spiritualist. He held séances and believed he communicated with the dead on many occasions throughout his life. The fact is that Mackenzie King and some of his friends, with the help of a medium, tried to communicate with his mother's spirit, his grandfather (William Lyon Mackenzie, leader of the 1837 Rebellion), his predecessor (Sir Wilfrid Laurier), and many others. He believed that these spirits could confirm his decisions. While Mackenzie King was alive, few people knew this strange aspect of his life. He recorded his spiritualist activities in the diaries and that's how we found out!
October 30, 1925, pages 191 and 194.
"...before going to the office received in the morning mail, (mailed Kingston 28) from Mrs. Bleaney a very remarkable letter  --  the interpretation of the dream I sent her. It is simply astounding how it spoke of the present elections, of seeming defeat, of the party being in a stronger position a little later on, of a clear way ahead after these troublous times, of the time it would take for people to understand, of great spiritual power to come later on, of the nearness of dear Mother, it was all like a great revelation.... My nature & reason revolt against "spiritualism" & all the ilk.  --  but not against the things of the spirit,  --  the belief in spiritual guidance,  --  thro' intuitions."
Mackenzie King and his dogs: Pat I, Pat II, Pat III...three of a kind!!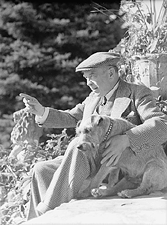 The Rt. Hon. W.L. Mackenzie King with his dog Pat I at Moorside Cottage
Believe It Or Not... Mackenzie King had a special relationship with his dogs. Throughout his life, he owned three Irish Terriers and they were all named Pat. Needless to say, the little creatures played a very important role in Mackenzie King's life and he loved them dearly. In 1931, Mackenzie King recorded this about Pat I: "... dear little soul, he is almost human. I sometimes think he is a comforter dear mother has sent to me, he is filled with her spirit of patience, and tenderness and love." Check out what was on the Prime Minister's mind in 1941. Canada was engaged in a desperate war and he had important decisions to make with the Cabinet War Committee.
July 14, 1941, page 577.
"At 8:45 (two hands together) I took Pat down stairs, after he had made a little whine. He seemed to want to make water, but drank quite a little with a relish  --  I then brought him in, went for walk to Bethel stone. The other Pat rushed out & ran in a circle around me and on up the path."
Mackenzie King and numbers...a counting affair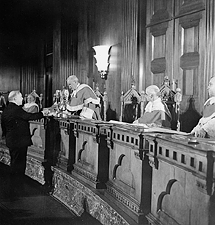 Chief Justice Thibaudeau Rinfret presenting a citizenship certificate to the Rt. Hon. W.L. Mackenzie King, Prime Minister of Canada, during the first citizenship ceremony to take place following the enactment of the Canadian Citizenship Act
Believe It Or Not... Mackenzie King had a special interest in numbers. In his diaries he often wrote about his fascination with numbers. Some might think that he was in fact quite interested by the science of numerology, the study of the hidden, magical significance of numbers.
Speaking of numbers... Notice on the same page of the diaries that Mackenzie King talks about the number "1." Because he was Prime Minister when the new citizenship law was enacted, he became the "first citizen." That means that the number on his Canadian Citizenship Certificate was..."1." Cool!
January 2, 1947, page 1.
"... I had thought yesterday of '47' being the figures '74' reversed which was the year of my birth. Curiously enough someone remarked this to me. I had another rather odd thought related to numerals which was that in thinking of the Rebellion of 1837-38, thought of my age  --  73rd year --  which is '37' reversed. Were one to live to a very old age, 83 would be reverse of 38. What the future may be, be it short or long, no one can tell... My name and that of those who have gone before me will hold their own in the history of Canada."
Mackenzie King and his grandfather...rebel pride?
William Lyon Mackenzie, 1831
Believe It Or Not... Mackenzie King's maternal grandfather, William Lyon Mackenzie, was once a wanted rebel. He was a Scottish immigrant, radical newspaperman, the first mayor of Toronto, and the leader of the Upper Canada Rebellion of 1837. After two unsuccessful attempts to overthrow the colonial government in Upper Canada, Mackenzie evaded capture and fled to the United States. Two of his lieutenants did not have such luck. They were captured and hanged. Mackenzie is a controversial figure in Canadian history. Find out what prompted Mackenzie King's pride in his grandfather.
April 10, 1939, page 2.
"As I write, I recall the circumstance of my grandfather having been imprisoned and exiled in the U.S. and my mother being born while he was there in exile, a political prisoner. He was pardoned and permitted to return to Canada. I am now being invited by the great grandson of Queen Victoria in whose name a bounty of £1, 000 was placed on my grandfather's head to accompany him as his Minister when he was to visit the U.S. There is something of poetic justice in this."