Archived Content
This archived Web page remains online for reference, research or recordkeeping purposes. This page will not be altered or updated. Web pages that are archived on the Internet are not subject to the Government of Canada Web Standards. As per the Communications Policy of the Government of Canada, you can request alternate formats of this page on the Contact Us page.
Educational Resources
Grades 9-11 (Secondary 4 and 5 in Québec)
Second World War - Conscription Facts
Interactive Information Section for Students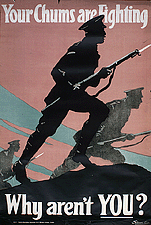 Your Chums Are Fighting - Why Aren't You?: recruitment campaign
Conscription is compulsory enlistment for military or state service. In the United States, it is better known as "the draft." When conscription becomes law, you must enlist, otherwise you go to jail.
Conscription into military service during a time of war builds an army in a short period of time. Usually healthy men in a specific age group are called to serve.
Conscription into state service during a time of war supports the war effort by building arms, munitions and machinery. Men and women are asked to work for the government or specific companies.
There have been military service and state service conscriptions in Canada to support the war effort in both the First World War (1914—1919) and the Second World War (1939—1945).
First World War Conscription events
The First World War military conscription profoundly divided the country. At the beginning of the war, only volunteers were recruited, but as the war went on, the number of volunteers declined significantly. Britain pressured Canadian Prime Minister Sir Robert Borden for additional military support, and in 1917, Borden imposed conscription.
Conscription created a major crisis that divided the country.
Two groups were opposed: the first group, Canadians of British descent or supporters of the British Empire, favoured additional military support for Britain. The other group, comprised mainly of French Canadians, felt no loyalty to Britain, because historically Britain was the conqueror of French Canada. This group was completely against sending anyone other than volunteers to the war.
Moreover, French Canadians living in Quebec tended to marry and have children at a very young age. Conscription typically forced young fathers to leave their family to go off to war.
When Sir Robert Borden imposed conscription, there were many riots and protests within the French community. The Canadian Army was used to police a public protest in Quebec City. At a public protest, shots were fired into a crowd of French Canadians, killing five people. This really left the country divided.
Sir Robert Borden was not re-elected in the next election. The French Canadian majority in Quebec voted against Robert Borden and his Unionist Party.
Young men from Metcalfe who enlisted in the 77th Battalion, Canadian Expeditionary Force
Anti-conscription parade at Victoria Square
Second World War: How Canada was officially involved:
September 1, 1939, Germany invades Poland with nearly two million soldiers.
September 3, 1939, Britain and France declare war on Germany following the invasion of Poland by German troops. Unlike in the First World War, Canada did not automatically go to war once Britain made its war declaration. This is because in 1931 the British Empire approved the Statute of Westminster, an agreement making all British Dominions independent and having their own responsibility for foreign affairs.
Mackenzie King held a special sitting of Parliament with a vote immediately following the debate in the House of Commons. The majority of the Members of Parliament voted to have Canada join Britain and France in the war against Germany.
September 10, 1939, Canada officially declares war on Germany.
Audio
William Lyon Mackenzie King tells Canadians that they must be "strong, secure and united," September 3, 1939.
[RM 1,165 KB] Download Freeware
Ref No: 74651
At the beginning of the war...
At this point, the future of Canada at war was unknown, but all Members of Parliament were focused on keeping Canada united. They would not permit a recurrence of the bloody events surrounding the First World War conscription. The majority agreed with the Prime Minister that no conscription would be imposed.
French and English Canadians flocked to enlist in support of the British Empire and France. Most Canadians embraced the battle for freedom and democracy against the Nazi regime.
From the very beginning of the conflict, Canadians actively participated in the war effort. Although French Canadians were in agreement that Canada should declare war, they were absolutely against compulsory military service for overseas operations. There were many reasons for their lack of enthusiasm. Having been separated from France politically, culturally and demographically for nearly two centuries, they were not concerned with the European conflict. They had very few ties left with France. They also had no loyalty to England which was still perceived as the conqueror. The Prime Minister, counselled by his colleague Ernest Lapointe, reassured French Canadians that there would be no conscription.
Unidentified soldiers landing at Arromanches, France, 23 July 1944.
Troops in landing craft preparing to go ashore during Operation JUBILEE, the raid on Dieppe
By 1942, the Nazis controlled most of Europe. With the support of many English Canadians, Great Britain pressured the Prime Minister to increase the Canadian war effort by imposing conscription.
As the war continued, the Prime Minister was pressured more and more towards imposing conscription, but this was against his original promise of "not necessarily conscription" to the Canadian people. He decided to hold a national plebiscite, the results of which would support any future decision on conscription and absolve him from any previous promises to the electorate. A plebiscite is a vote of the entire electorate on a national issue. However, in a plebiscite, the leader does not have to follow the wishes of the majority.
The national outcome of the plebiscite was in support of conscription. However, in Quebec, 72% of the population had voted against it. Once again French Canadians were confronted with the threat of an imposed military conscription.
Rt. Hon. W.L. Mackenzie King, Prime Minister of Canada, with children, on the day of the plebiscite concerning the introduction of conscription
Rt. Hon. W.L. Mackenzie King voting in the plebiscite on the introduction of conscription for overseas military service
Although supported by the majority of the electorate, Mackenzie King was hesitant to immediately proceed with conscription given the outcome of this same action back in the First World War. Cautiously, he waited two years before imposing conscription.
In 1944, conscription was imposed. The Prime Minister, however, limited the number of Canadian soldiers sent overseas to 16,000.
Many historians believe that this careful manoeuvring by the Prime Minister prevented a serious crisis in Canada, one which could have deepened the rift between its French and English citizens.
Answer these questions and test your knowledge of conscription.
What is a "volunteer army"?
What is conscription? Give examples of different types of conscription.
Under what circumstances might conscription be necessary?
What Second World War conditions prompted our government to declare conscription necessary?
Why were English Canadians generally supportive of conscription while most French Canadians generally opposed to it?
Why did the Mackenzie King government approach the question of conscription carefully in the years 1942-44?
Explain how Mackenzie King manoeuvred to impose conscription?
What is a plebiscite?
What situation today might a plebiscite help?
How was the First World War conscription response different from the Second World War response?
Bonus question: What circumstances do you think it would take today for the Canadian government to impose conscription?