Archived Content
This archived Web page remains online for reference, research or recordkeeping purposes. This page will not be altered or updated. Web pages that are archived on the Internet are not subject to the Government of Canada Web Standards. As per the Communications Policy of the Government of Canada, you can request alternate formats of this page on the Contact Us page.
Literary Cities
Charlottetown
Queen of Prince Edward Island
by Marcel Barriault, Library and Archives Canada
Long known for its gently rolling hills and red sandstone cliffs, Charlottetown is called "the birthplace of Canada" for having hosted one of the earliest meetings of the Fathers of Confederation, in 1864. Named in honour of Queen Charlotte, wife of King George III, and grandmother of Queen Victoria, Charlottetown was founded near the ruins of Port Lajoie, the former administrative capital of the island when it was under French jurisdiction.
Visitors to Charlottetown, and indeed to Prince Edward Island as a whole, are struck by the rustic charm and the majestic beauty of its landscape. According to Mi'kmaq legend, when the great spirit Glooscap had finished painting the wonders of the world using all of the colours of his palette, he dipped his brush into the ocean and created his favourite island, Abegweit or Epegwitg, meaning, "cradled on the waves."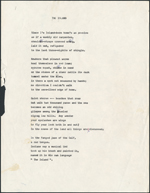 Typescript of poem "The Island," by Milton Acorn
The lushness of this "Garden of the Gulf" has made it one of the most enduring and stunning literary landscapes in Canada. Charlottetown-born author Milton Acorn, known as "The People's Poet," celebrates the island's beauty in the collection that earned him a Governor General's Award, The Island Means Minago (1976): "Quiet shores-beaches that roar / But walk two thousand paces and the sea / Becomes an odd shining / Glimpse among the jeweled / Zigzag low hills."
Lucy Maud Montgomery,
ca. 1920-1930
But for most people, Charlottetown is associated with Anne of Green Gables, the fictional heroine created by Island-born author L.M. Montgomery. It is in Charlottetown that the endearing red-headed orphan gets a taste of urban society and worldly sophistication. To show its appreciation to Anne, Charlottetown has celebrated the little girl whose very image has become synonymous with Prince Edward Island. In fact, since 1965 the city has staged Anne of Green Gables-The Musical, the longest-running main stage musical in Canada. The popularity of this fictional character has reached cult status, fuelling a veritable tourist industry centred on the beloved child heroine. Charlottetown may very well be the capital of the smallest province in Canada, but thanks to Anne Shirley, it casts one of the longest shadows on the Canadian literary landscape.