Archived Content
This archived Web page remains online for reference, research or recordkeeping purposes. This page will not be altered or updated. Web pages that are archived on the Internet are not subject to the Government of Canada Web Standards. As per the Communications Policy of the Government of Canada, you can request alternate formats of this page on the Contact Us page.
Literary Cities
Halifax
A Sense of History
by Christopher J. Armstrong, Chukyo University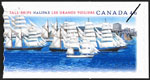 Postage stamp entitled Tall Ships Halifax, July 15, 2000
Known to the Mi'kmaq as chebookt, or "great harbour," Halifax was founded in 1749 as an English military base. With a long and diverse history, Halifax is, in Sue MacLeod's words, "a contemporary city that will never shake its past."
Colonial Halifax quickly established its literary reputation. In 1752, John Bushell printed the Halifax Gazette, Canada's first newspaper. Joseph Howe made his Novascotian newspaper a forum for Nova Scotia's burgeoning 19th-century literary culture, publishing works by the internationally acclaimed Thomas Chandler Haliburton. Howe also celebrated the city and its history in such poems as To the Town Clock and Melville Island. Other authors, including Francis Blake Crofton, Mary Herbert, Alice Jones, James De Mille, J.M. Oxley, and Margaret Marshall Saunders, increased the city's literary fame by drawing on its rich past for inspiration.
Margaret Marshall Saunders, ca. 1920s
Amid progress and change, history and its trials remain a source of personal and communal identity. In Roger Sudden (1945), Thomas Raddall monumentalizes Nova Scotia's past by chronicling Halifax's founding; the modern The Nymph and the Lamp (1950) is tinged with nostalgia and urban alienation. While the Expulsion of 1755 shapes Acadian identity in Simone Poirier-Bure's Candyman (1994), the uprooting of Africville in 1964 informs the vision of African Nova Scotian writers such as George Elliott Clarke, Sylvia D. Hamilton, Maxine Tynes, and Frederick Ward.
Catastrophic events also influence a population's character. The Halifax Explosion of 1917 inspired numerous literary treatments: Thomas Raddall's Winter's Tale (1936); Jim Lotz's The Sixth of December (1981); Julie Lawson's No Safe Harbour (2006) and Carol Bruneau's Glass Voices (2007). The most famous, Hugh MacLennan's Barometer Rising (1941), combines suspense, documentary realism, and social protest to lament a community's involvement in war and empire, while also praising a cityscape of beauty and diversity.
Observing this richly diverse city, some poets have quested for an all-embracing image of Halifax: a rooted, resilient people in Bill Howell's "Seventeen Forty-Nine", a permeating Halifax fog for Leslie Choyce, urban rhythms in Shauntay Grant's "The City Speaks in Drums". Others, such as John Wall Barger, Brian Bartlett, Don Domanski, Lorri Neilsen Glenn, Sue Goyette, and Matt Robinson, have recorded the small wonders of daily life in specific Halifax locales, frequently drawing on the city's rich history.