Archived Content
This archived Web page remains online for reference, research or recordkeeping purposes. This page will not be altered or updated. Web pages that are archived on the Internet are not subject to the Government of Canada Web Standards. As per the Communications Policy of the Government of Canada, you can request alternate formats of this page on the Contact Us page.
Literary Cities
Montréal
(English Literature)
A City of Literary Communities
by Steven Artelle, Library and Archives Canada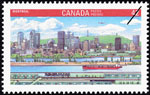 Postage stamp depicting Montréal's skyline, March 25, 1992
Montréal's Anglophone literary community has had a decisive influence on the development of Canada's literary landscape at least since the 1820s, with the appearance of publications such as the Canadian Magazine and Literary Repository and the Canadian Review and Literary and Historical Journal. In the 1850s, Montréal poet and politician Thomas D'Arcy McGee promoted the ambitious idea of a "Canadian literature" in his newspaper, the New Era.
A.M. Klein, photograph by Garcia Studios, ca. 1940s
These early publications envisioned a community of writers who would develop a distinctive national literature. Over the years, writers in Montréal have indeed contributed to this goal. During the early 20th century, a group of young writers associated with McGill University championed a modern literary movement that broke with 19th-century literary forms and themes. The anthology New Provinces (1936) contains the poems of members of the McGill group, including A.J.M. Smith, F.R. Scott, and A.M. Klein. Klein's classic collection The Rocking Chair and Other Poems (1948) features some of the greatest poems inspired by Montréal. The influence of the McGill group continued to resonate with the next generation of poets in Montréal, including Leonard Cohen, Irving Layton, and Louis Dudek.
Hugh MacLennan, photograph by Harry Palmer, December 11, 1984
Many of these poets were part of the Montréal Jewish community that also produced talented writers of fiction, in particular Mordecai Richler. Richler's celebrated novels, such as The Apprenticeship of Duddy Kravitz (1959), are inspired by Montréal's unique communities, culture, and settings. Hugh MacLennan's novel Two Solitudes (1945) also explores Montréal as a symbol of Canadian identity and culture.
Another important community of writers in Montréal was the Montreal Story Tellers Fiction Performance Group, which involved authors such as Clark Blaise, John Metcalf, Raymond Fraser, and Hugh Hood. With its vibrant tradition of publishing, poetry, and fiction, Montréal continues to attract literary tourists and inspire contemporary Canadian writers.
See also Montréal (French Literature)