Archived Content
This archived Web page remains online for reference, research or recordkeeping purposes. This page will not be altered or updated. Web pages that are archived on the Internet are not subject to the Government of Canada Web Standards. As per the Communications Policy of the Government of Canada, you can request alternate formats of this page on the Contact Us page.
Literary Cities
Winnipeg
Building a Creative Community
by Brooke Pratt, University of Western Ontario
Postage stamp entitled Winnipeg, 1874–1974, May 3, 1974
There are few cities in Canada with a more active literary life than Winnipeg. Geographically isolated from the country's other urban centres, Winnipeg has always fostered its unique cultural climate by promoting and maintaining a vibrant literary milieu. The city boasts a long history of newspaper publication and theatre production, and is home to several literary journals, including Contemporary Verse 2, Mosaic, and Prairie Fire. From Ralph Connor and Laura Goodman Salverson, to Margaret Laurence and Marshall McLuhan, to David Bergen and Carol Shields, Winnipeg has inspired many of Canada's most-recognized cultural producers.
Dorothy Livesay receiving the Governor General's award, October 18, 1984
According to the Winnipeg-born poet Dorothy Livesay, in her poem "Preludes" (1973), "The drama of Winnipeg is in its seasons, its weather." Whether by praising its beautiful prairie sky or by cataloguing its frigid winters, writers have undoubtedly made the Winnipeg landscape into an enduring literary locale. But there is more to this place than flash floods and extreme temperatures. The briefest survey of Winnipeg writing will attest to the city's rich multicultural history and working-class heritage. Writers from Winnipeg's North End provide vivid depictions of the trials and rewards of immigration, ethnic diversity, and social activism. Readers need only turn to John Marlyn's Under the Ribs of Death (1957), or the work of Adele Wiseman and Vera Lysenko, for imaginative entry into Winnipeg's most notorious neighbourhood.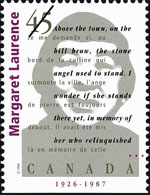 Postage stamp entitled Margaret Laurence, 1926–1987, October 10, 1996
Other Winnipeg writers profile different features of the city's past and present environments: Margaret Sweatman's Fox (1991) is a fictionalization of the 1919 Winnipeg General Strike; Beatrice Culleton's In Search of April Raintree (1983) chronicles the ongoing struggles of the city's Métis population; and Chandra Mayor explores the punk music scene of Winnipeg's urban core in her 2004 novel, Cherry. With such a wide variety of writers and notable works, Winnipeg remains a place of creativity. As Miriam Waddington recalls of her own Winnipeg childhood, in her poem "Saints and Others" in Collected Poems (1986):
I was once proud and
loved myself I lived
five thousand feet
above sea level loved
my prairie city and the wild
windscattered rose,
and no one read the sky
so clear so true as I.