Archived Content
This archived Web page remains online for reference, research or recordkeeping purposes. This page will not be altered or updated. Web pages that are archived on the Internet are not subject to the Government of Canada Web Standards. As per the Communications Policy of the Government of Canada, you can request alternate formats of this page on the Contact Us page.
Literary Cities
Regina
A Prairie Oasis
by Brooke Pratt, University of Western Ontario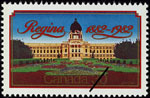 Postage stamp entitled Regina, 1882–1982, August 3, 1982
The year 1947 marked the publication of Paul Hiebert's Sarah Binks, a satirical portrait of a young poet affectionately known as the "Sweet Songstress of Saskatchewan." In this award-winning work of fiction, Hiebert characterizes the city of Regina as being "at once the commercial as well as the literary and cultural centre of the province." Voted the Cultural Capital of Canada in 2004 by the Department of Canadian Heritage, Regina remains an important creative environment for contemporary writers and artists alike.
Home to the University of Regina, which publishes both Prairie Forum and the Wascana Review, Regina is a place that maintains a healthy literary community and recognizes its most talented residents with the City of Regina Book Award. Numbered among the winners of this annual award are Byrna Barclay, Sandra Birdsell, Michael Trussler, and Dianne Warren. Regina is also the birthplace of several other well-known Canadian writers, including poets Tim Lilburn and John Newlove. In addition, the city boasts an active theatrical life, with the Globe Theatre and Regina Little Theatre as its primary production companies.
View looking along Scarth Street from the Hotel Saskatchewan, Regina, ca. 1930
A city known for its many man-made parks (Wascana Centre being its most celebrated recreational and cultural development), Regina stands apart from the treeless vistas of its surrounding prairie landscape. From Ken Mitchell's Wandering Rafferty (1972), which profiles Regina's brewery district, to Julia van Gorder's Cyclone (1998), an examination of the city's early years and the devastating tornado of 1912, Regina has appeared in a variety of literary works. Don MacMillan's Rink Rat (1949), a favourite among hockey fans, and Gail Bowen's popular Joanne Kilbourn mysteries provide two further examples.
Despite its overall diversity, this group of writers and literary works reveals a persistent desire to capture the city's character on its own terms. For Saskatchewan's own Edward McCourt, professor and author of Canada's first sustained critical treatment of prairie regionalism, Saskatchewan (1968), citizens of Regina are to be applauded for this relative lack of falsity in representing their city to the outside world: "Reginans-and this is surely a sign of maturity and witness of grace-are content to live with and be themselves."