Archived Content
This archived Web page remains online for reference, research or recordkeeping purposes. This page will not be altered or updated. Web pages that are archived on the Internet are not subject to the Government of Canada Web Standards. As per the Communications Policy of the Government of Canada, you can request alternate formats of this page on the Contact Us page.
Literary Cities
Edmonton
Horses and Fields and Malls, Oh My!
by Véronique Dorais, University of Calgary
The new suburb in Edmonton, photograph by Chris Lund, August 1957
"Of all the cities in the world, why Edmonton?" asks a character in Todd Babiak's The Garneau Block (2006). The answer is simple: Edmonton is full of stories. After all, many of Canada's acclaimed authors, such as Frances Susan Itani and Rudy Wiebe, graduated from the University of Alberta. Daphne Marlatt and Trevor Ferguson, among others, have participated in the annual Writer-in-Residence program. From Ruby Wiebe's battle with historical artifacts and the facts of art in The Temptations of Big Bear (1973), to Ian McGillis's illustration of the chaotic suburbs during the oil boom in A Tourist's Guide to Glengarry (2002), Edmonton is an urban space replete with myth and history.
No literary portrayal is as memorable as the 800 horses stampeding across the intersection of Jasper Avenue and 101st Street in Robert Kroetsch's The Studhorse Man (1969). Aritha van Herk's Places Far From Ellesmere (1990) interlaces fiction and geography to explore the mythic possibilities of the cityscape. In Gail Anderson-Dargatz's The Miss Hereford Stories (1994), Edmonton figures as a place of contrast to the invented town of Likely.
Edmonton also appears in Canadian poetry. Dorothy Livesay notes its radiant night sky in her poem "The Pied Piper of Edmonton" (1971), whereas Earle Birney views the city's growth as "a puzzled frown" in "North Star West" (1951). The distrust of the rising urban culture also figures in Eli Mandel's "Edmonton, 1967" (1973) and Norman Sacuta's "Death of a Scuba Diver at West Edmonton Mall" (2001).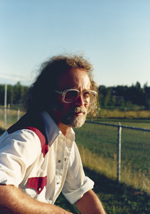 W.P. Kinsella
Yet, Edmonton's urban characterization stems from an initial interest in the city as a historical setting. For instance, Edmonton appears in W.P. Kinsella's Box Socials (1991), a baseball romance that commemorates Renfrew Park (now John Ducey Park). Fort Edmonton, currently a museum, serves in its original incarnation as a fur-trading post for the Hudson's Bay Company in Fred Stenson's The Trade (2000). The voice of Franco-Albertans resounds in Nancy Huston's Plainsong (1993), and the portrayal of Edmonton as a space for freedom figures in Henry Kreisel's novel The Betrayal (1971).