Archived Content
This archived Web page remains online for reference, research or recordkeeping purposes. This page will not be altered or updated. Web pages that are archived on the Internet are not subject to the Government of Canada Web Standards. As per the Communications Policy of the Government of Canada, you can request alternate formats of this page on the Contact Us page.
Literary Cities
Vancouver
An Eclectic Literary Experience
by Karis Shearer, University of Western Ontario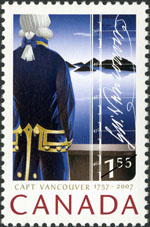 Postage stamp entitled Capt. Vancouver, 1757–2007, June 22, 2007
The American movie producer in Timothy Taylor's Stanley Park (2001) believes that Vancouver can be disguised as any other city. Yet, as many of the city's writers have shown, Vancouver is a city whose cultural and geographical particulars have been recorded in literature for over two centuries.
In 1792, the first person to write in English about the site now known as Vancouver was the city's namesake Captain George Vancouver. Nearly 200 years later, George Bowering, would write about Vancouver's search for the Northwest Passage in his poem George, Vancouver (1970) and again in Burning Water (1980). In between the two, Sara Jeannette Duncan's A Social Departure (1890) depicted Vancouver for the first time in fiction; Ontario's Pauline Johnson moved west to the city and wrote Legends of Vancouver (1911); and Ethel Wilson published Down at English Bay (1949).
Cover page of Legends of Vancouver, by E. Pauline Johnson, Vancouver: D. Spencer, 1911
Title page of Legends of Vancouver, by E. Pauline Johnson, Vancouver: D. Spencer, 1911
The city has been home to Canadian avant-garde writers Daphne Marlatt (Vancouver Poems (1972) and Touch to My Tongue (1984)) and bpNichol (The Martyrology (1972-1992)). The University of British Columbia (UBC) has served as a hub for poets and critics. There, in an office they shared, Frank Davey and George Bowering produced the magazine TISH (1961-1963), and William New went on to become a literary critic and editor of Canadian Literature. UBC also sponsored the 1963 Vancouver Poetry Conference, connecting American Black Mountain poets with Canadian poets, such as Margaret Avison and Fred Wah. In 1965, poet-professor Earle Birney established Canada's first department of Creative Writing.
Cover of the first issue of Tish, September 1961
A literature of social justice has subsequently emerged from Vancouver, facilitated by conferences, such as Writing in Our Time (1979), Women and Words (1983), and Writing Thru Race (1994), and publishing houses, such as Press Gang (1970-2002) and Talonbooks. Important cultural critiques-Sharon Pollock's The Komagata Maru Incident (1978), Joy Kogawa's Obasan (1980), Jane Rule's Contract with the World (1980), Sky Lee's Disappearing Moon Café (1990), Evelyn Lau's Inside Out (2001), and Douglas Coupland's Girlfriend in a Coma (1998)-engage issues of racism, homophobia, homelessness, mental illness, and globalization.