Archived Content
This archived Web page remains online for reference, research or recordkeeping purposes. This page will not be altered or updated. Web pages that are archived on the Internet are not subject to the Government of Canada Web Standards. As per the Communications Policy of the Government of Canada, you can request alternate formats of this page on the Contact Us page.
The Meeting
Mary and Amédée
Their story starts with an exile.
Amédée's father, Louis-Joseph Papineau, was a leader in the ARCHIVED - Rebellion of 1837 in what was then Lower Canada. When the rebellion collapsed, the Papineau family went into exile. Amédée, the eldest son, stayed with family friends in Saratoga, New York, where he taught French at a girls' school.
In Saratoga, Amédée met the Westcott family, and over the course of the year 1840, he got to know James Westcott's young daughter, Mary Eleanor. He was 22; she was 19 and one of his students.
More Love Messages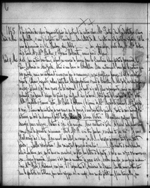 Late in that year, Amédée admitted in his journal that he had fallen in love with her, just as he was due to travel to France for a reunion with his family. They corresponded while he was away. His journal records a letter from Mary that clarified her feelings: "I have received a letter from my dear Mary that dissipates all my fears and doubts."
But their courtship was long and difficult. Amédée returned from France to Saratoga in June 1843 to face Mary's father, James, who was anything but pleased to learn of their attachment. Mr. Westcott insisted that they wait four or five years to become engaged. His principal objection to the young man was his Roman Catholicism. The Westcotts were Presbyterian, and Mary's father did not want her to have to renounce her beliefs (Noël, 51-58).
Was this the real reason for their trouble? Perhaps. It was certainly a serious concern. Mary herself raised doubts about whether they could manage their religious differences.
---