Archived Content
This archived Web page remains online for reference, research or recordkeeping purposes. This page will not be altered or updated. Web pages that are archived on the Internet are not subject to the Government of Canada Web Standards. As per the Communications Policy of the Government of Canada, you can request alternate formats of this page on the Contact Us page.
The Meeting
Mary and Amédée
Another clue could lie in a letter written by James Westcott in June 1845, after the couple had become engaged. Amédée pressed for an early wedding date, and Mr. Westcott was passionately distressed.
"Your letter of [June 15] reached me today, the contents of which cause me many, and painful emotions. The separation from my daughter at any time, would make my heart to bleed, but the time you mention, so close at hand, I cannot even give it a thought." (JW to LJAP, June 20, 1845)
More Love Messages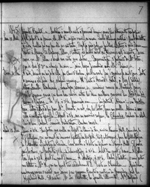 Mary was James Westcott's only surviving child. His son, James, had died at the age of 12 in March 1839, just as Mary and Amédée were becoming acquainted. Westcott Sr. loved his daughter deeply, and he feared that her marriage would take her away from him forever. He used no overt control to separate them, but there seems to have been a good deal of emotional blackmail. In a strange, impassioned, almost incoherent letter, written just after the couple's reconciliation, Mary tries to explain to Amédée why she had blown so hot and cold during their long courtship.
You say you are enveloped in mysteries, this is indeed a mystery for the heart is an enigma beyond solution-but under the circumstances in which I was placed you surely must understand exactly my state of mind, I think, ought not to blame my conduct. I was subject, it is true, to no open influences, yet forever feeling the effects of an influence more powerful and dangerous, constantly struggling between my own feelings and filial duty, and then came-the blow from an unexpected source-[her illness] long sad hours lent their aid to the completion of the tragedy, and when I came forth from my sick room I was an enigma to myself. I had formed a course of action and I made up my mind that I did, and should feel accordingly; I dared not trust to a self-examination, and for months I communed not with my spirit. You may not understand me. I think no one could, who had not passed thro it. I wrote you I should immediately tell my parents of any state of feeling, but I could not; again and again I appointed times to speak of it-but oh! the cause. I felt the hot blood mount to my cheek even when alone with my thoughts; I delayed it as long as possible, & then I spoke merely of a change in myself… I could not speak the words that would have roused the lion in the hearts of those who love me (MEW to LJAP, May 28, 1845).
In short, given her father's powerful feelings, her sense of love and obligation toward her parents and her own weak health, Mary seems to have had something like a breakdown. This is why she had been ready to renounce the man she loved. She had simply shut down under the pressure.
In her letter to Amédée, Mary pleads with him to give her parents time. Amédée (as emotionally off balance as she is, perhaps?) wonders if her attachment to her father is stronger than her love for him. Mary responds with hurt and anger, in a long letter full of reproof: "Had I sisters, were there others to take my place, I could act fearlessly and with independence, but it is otherwise. You cannot know how my Father depends upon me for daily enjoyment" (MEW to LJAP, June 22, 1845).
As her father points out, they will need a year to prepare anyway (JW to LJAP, June 20, 1845). Mary must make a round of farewell visits to her relatives. They will need to plan their home and their lives together.
Mary and Amédée were finally married on May 20, 1846. Despite their religious differences, they had a happy life.
References
Mary Eleanor Westcott Papineau fonds, 1810-1889. Textual record. Library and Archives Canada. Archival reference no.: R4386-0-7-E; (MG24-K58).
Noël, Françoise. Family Life and Sociability in Upper and Lower Canada, 1780-1870: A View from Diaries and Family Correspondence. Montréal: McGill-Queen's University Press, 2003.
---