Archived Content
This archived Web page remains online for reference, research or recordkeeping purposes. This page will not be altered or updated. Web pages that are archived on the Internet are not subject to the Government of Canada Web Standards. As per the Communications Policy of the Government of Canada, you can request alternate formats of this page on the Contact Us page.
Courtship
Courting in the Community
For the young couple, courtship meant developing a "special friendship" at a deeper and closer level. The stakes were very high. Marriage was a permanent relationship that aligned two families. It carried strong economic and social expectations and was therefore not to be taken lightly (although some couples undoubtedly did just that). A couple was encouraged to take their time and be certain they were making the right choice.
More Love Messages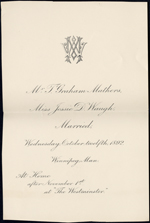 Couples could change their minds early in the relationship, but there came a point at which they were expected to head into real commitment. The more obviously they became a couple, the stronger the pull toward the altar. Once they had declared a public engagement, calling things off was a serious reflection on the person's character and would damage his or her reputation.
For example, when one Mr. Campbell jilted bride-to-be Jane Price at the last minute, she was devastated, but her clear-eyed aunt Caroline Hewlett, offered this consolation: "she is well quit, I think, of one who cannot have any fixed character or principles, what security could she have for due protection, and solace under the trials of life with a man of such wayward fickle mind?" (Noël, 19).
References
Noël, Françoise. Family Life and Sociability in Upper and Lower Canada, 1780-1870: A View from Diaries and Family Correspondence. Montréal: McGill-Queen's University Press, 2003.
---