Archived Content
This archived Web page remains online for reference, research or recordkeeping purposes. This page will not be altered or updated. Web pages that are archived on the Internet are not subject to the Government of Canada Web Standards. As per the Communications Policy of the Government of Canada, you can request alternate formats of this page on the Contact Us page.
The Challenges
Life and Death
In today's world, it is hard to understand how precarious life was for our 19th-century forebears. Although there were dozens of "cures" for diseases, few of them were effective, except for good nursing. Illness could all too easily end in disability or death.
More Love Messages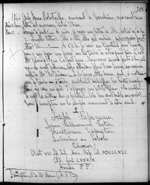 Courting couples lived with ever-present exposure to death. One of Amédée Papineau's first journal entries about the Westcott family records his attendance at the funeral of Mary's 12-year-old brother. When Mary herself falls ill, Amédée's deep concern is utterly understandable. In fact, her health was never robust. Mary's own mother had died in childbirth. Amédée was to lose a brother, Gustave, at the age of 22 after a long illness. And Mary and Amédée lost their second child, Louis-Joseph, at the age of 10 months (Noël, 52, 55, 138, 201, 146).
Illness could be sudden and violent, as in the cholera epidemic that swept through Lower Canada in 1832. Almost as soon as Catharine Parr Traill set foot in the New World, she was laid low by cholera (Gray, 65).
But chronic diseases such as tuberculosis (TB) and malaria were also a dark part of the landscape. A widespread malady in Canada, there was no cure for TB until the discovery of antibiotics in the 20th century. This disease cast a shadow over Wilfrid Laurier's romantic aspirations. The disease likely first took its toll in his life when he was seven and he lost his mother, probably to TB; his sister died of the same disease in childhood. Three half-brothers and his father also likely died of TB: not surprisingly, given that tuberculosis spreads most easily in close quarters. (Fisher, 30-31).
While Wilfrid was a law student at McGill College in Montréal, he boarded with a friend of his late mother. A young music teacher, Zoé Lafontaine, boarded in the same home, with her ailing mother. At the same time, however, Wilfrid began showing symptoms of TB. That, and his lack of money, kept him from proposing to her. He kept her waiting for more than six years. As he delayed, she grew impatient.
Then, as Wilfrid began his legal practice in Arthabaskaville, her letters began to make him uneasy. In February 1867 he wrote to her: "Your earlier letters have filled my head with somber ideas; I feared everything without daring however to acknowledge my fears. Dear Zoé, I have felt it more deeply than ever, because I have feared it, how hard it would be for me if I were to lose you. My friend, I could never love anyone other than you, and if I were to lose you, I would never be consoled" (Grescoe, 28).
Nonetheless, it took the threat of Zoé's marriage to Dr. Pierre Valois to bring this unsatisfactory state of affairs to a conclusion. Their boarding-house landlord, Dr. Stéphane Gauthier, telegraphed Wilfrid to come to Montréal immediately.
Dr. Gauthier examined Wilfrid and assured him that he had chronic bronchitis, not tuberculosis. Wilfrid and Zoé were reunited and were married within 24 hours. (Was she putting a forcible end to his indecision? Nobody knows.) They were apparently quite happy together, although they were childless.
Nonetheless, Wilfrid formed a deep emotional and intellectual relationship with Émilie Lavergne, "More than a Kindred Spirit?" the wife of his law partner. They corresponded for years, in what look very much like love letters (Laurier, passim.)
Zoé actually encouraged the friendship, seeing it as complementary to her own relationship with her husband. Zoé, Wilfrid, Émilie and Émilie's husband, Joseph, all said firmly, in response to rumours, that the friendship was quite innocent-although some said that Émilie's son Armand, of whom Wilfrid was very fond, strongly resembled him.
References
Gray, Charlotte. Sisters in the Wilderness: The Lives of Susanna Moodie and Catharine Parr Traill. Toronto: Viking, 1999.
Grescoe, Audrey, and Paul Grescoe. The Book of Love Letters: Canadian Kinship, Friendship and Romance. Toronto: McClelland & Stewart, 2005.
Laurier, Wilfrid. Dearest Émilie: The Love-Letters of Sir Wilfrid Laurier to Madame Émilie Lavergne. Edited by Charles Fisher. Toronto: NC Press, 1989.
Noël, Françoise. Family Life and Sociability in Upper and Lower Canada, 1780-1870: A View from Diaries and Family Correspondence. Montréal: McGill-Queen's University Press, 2003.
---