Archives Search
Description found in Archives
General correspondence (J3) [textual record, graphic material].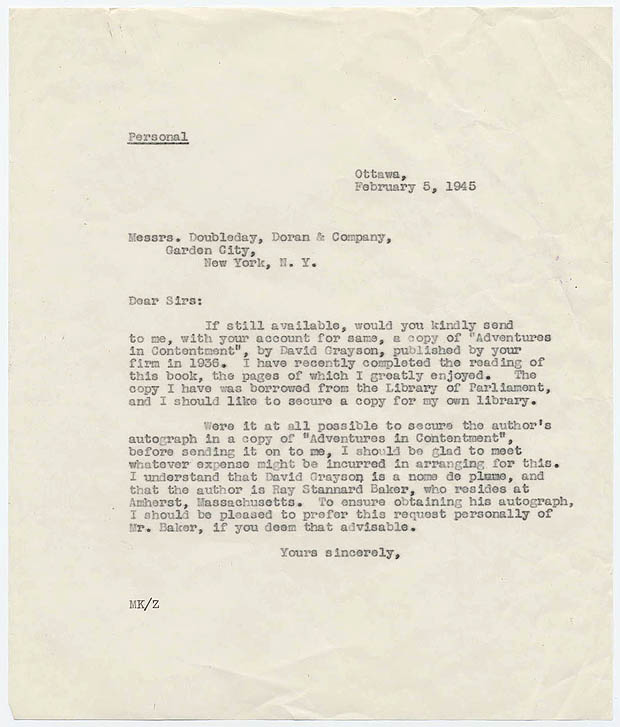 Online MIKAN no. 108979 (1 item)
No place, unknown, or undetermined
15.2 m of textual records.
72 photographs b&w.

Series consists of personal letters which were kept by William Lyon Mackenzie King at Laurier House. The series includes correspondence from senators, Members of Parliament and senior civil servants on routine social and personal matters, such as birthday greetings or anniversaries. There are also letters from individuals who were not King's personal friends, but who corresponded regularly. Most of the correspondence deals with non-political subjects. Researchers should note that the textual records files are the remnants of the material which remained after the 'important' correspondence was removed from Laurier House and arranged into the Primary series correspondence (J1), the Family papers series (J7) or the Personal correspondence series (J8). The textual records are arranged alphabetically, with all the correspondence from an individual kept together. The series also contains a portrait of Prime Minister William Lyon Mackenzie King on the occasion of the opening of the 3rd session of the Eighteenth Parliament, 27 January 1938. The photo was presented to King by the Hon. Earl Row, M.P. for Dufferin-Simcoe, Ontario. In addition, there are photos that were found in King's correspondence files which consist primarily of portraits and family snapshots; a St. John's, Newfondland seascape, 1928; and snapshots of Inuit. Indentified individuals include: S.J. Brown, Laurence Dakin, Victor Doré, Leslie and Margery Flemming, Albert E. Holder, J.C. Moulton, Nick Procyk, Dr. W.A. and Miss E. Sangster, R.E. Saylforter, M. Schultz, W.B. Shuttleswoorth, J.F. Simpson, H.J. Sims, J.E. Stevenson, M. Wade, Thomas Wayling, Robert H. Winters.
Volume
from 1 to 161
90: Open
Former archival reference no.
Textual records A box list is available and a more detailed author list is available from the Archivist (MSS0502-J3). MSS0502 90 (Electronic)

Textual records The finding aid is a list of authors (MSS0502-J3). MSS0502 90 (Electronic)
http://data2.archives.ca/pdf/pdf001/p000000766.pdf
Date modified: