Archives Search
Description found in Archives
Souvenirs (J15) [textual record, object, architectural drawing]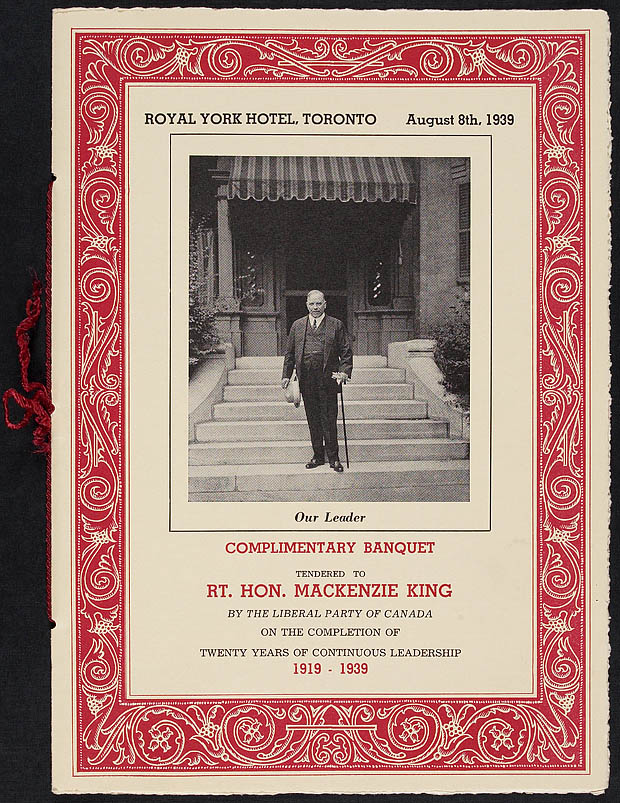 Online MIKAN no. 108992 (8 items)
No place, unknown, or undetermined
7.68 m of textual records.
7 medals mostly bronze.
1 pin.
6 architectural drawings : blueprints, 1 lithograph 71 x 103 cm or smaller.

Series contains a wide range of items relating to William Lyon Mackenize King's personal and political activities. Included in the series are programmes, historical document, plaques, honourary degrees addresses, certificates and other memorabilia collected by King. The series also reflects King's interest in historical documents relating to the career of his grandfather William Lyon Mackenzie and in the Royal Tour of 1939. The series contains seven medals commemorating W.L.M. King's 20th anniversary as as leader of the Liberal Party of Canada, 1939; George medal and souvenir lapel stick pin from the 1937 Paris exhibition of the l'U.D.A.S. des anciens combattants (Le Coq Gaulois). Series consists of architectural plans of an unidentified summer house constructed of logs (believed to be one of the buildings at King's estate at Kingsmere, Quebec), and perspecive drawings of a building proposed to be erected on Elgin Street, between Queen and Albert (Ottawa).
Object
90: Open
Medals, pin: Must be consulted under clo
se supervision for conservation reasons.
Architectural: technical drawings
90: Open
Volume
from 1 to 14
from 16 to 36
from 15/1 to 15/19
90: Open
Former archival reference no.
Other accession no.
1980-034 MED
1981-035 MED
Textual records: Volume 31 has been withdrawn from circulation. Copies of the material are available in MG26-J15, Vol.14, file 288. Researchers must consult the copies. Textual records: Volumes 34-36 have been withdrawn from circulation. Researchers must consult the Archivist in the Political Archives Section to obtain access to the material.
Architectural, technical drawings: No restrictions. Credit Library and Archives Canada.
Textual records The finding aid, MSS0502-J15, is arranged by subject and provides a detailed list for most items. Numbers in square brackets [ ] indicate the number of items in each file. Oversize material, vols.16-29 must be ordered by both volume and file number. Items which have been transferred elsewhere are noted in the finding aid. MSS0502 90 (Electronic)
http://data2.archives.ca/pdf/pdf001/p000000764.pdf

Objects Medal inventory available: Nos. 9282-9288, 10586-10587. (Paper)

Architectural, technical drawings Please consult lower level descriptions. Finding aid consists of an item listing. 1966/354. 90 (Paper)
Related materials
A copy of the autograph album, MG 26-J15, vol.1, file 22 is also available in MG 22 A4.

Arrangement note
The series was rearranged in 1981.

Conservation
Volume 36 contains a file that has a seal which will have to be solidified.
Date modified: