Archives Search
Description found in Archives
Souvenirs (J15) [document textuel, objet].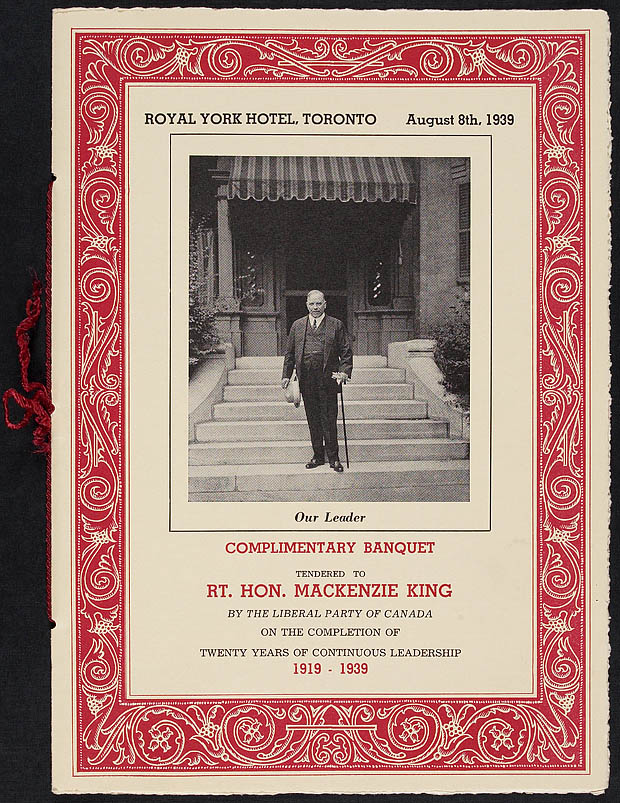 Online MIKAN no. 130772 (8 items)
No place, unknown, or undetermined
7,68 m de documents textuels.
7 médailles.
1 épinglette.

La série comprend une variété de documentation y compris des programmes, des documents historiques, des souvenirs collectionnés par Mackenzie King. La série témoigne également de l'intérêt de Mackenzie King à l'endroit des documents historiques portant sur la carrière de son grand-père, William Lyon Mackenzie, et sur la visite royale de 1939. La série comprend sept médailles commémorant le 20ième anniversaire de W.L.M. King comme chef du Partie Libérale du Canada, 1939; une épinglette souvenir de l'Exposition de Paris en 1937 de l'U.D.A.S. des anciens combatants (Le Coq Gaulois).
Volume
from 1 to 14
from 16 to 36
from 15/1 to 15/19
90: Open
Former archival reference no.
Documents textuels: Volume 31 a été retiré de la circulation. Les copies sont disponibles dans volume 14, fiche 288. Le chercheur doit utiliser les copies. Volumes 34-36 ont aussi été retirés de la circulation. Les chercheurs doivent consulter avec l'archiviste responsable de la section des archives Politiques.
Documents textuels L'instrument de recherche, MSS0502-J15, est agencé par matière et fournit un répertoire détaillé de la plupart des pièces. Les chiffres entre crochets [ ] indiquent le nombre de pièces contenu dans chaque dossier. Les documents de grande dimension, soit les volumes 16 à 29, doivent être commandés par numéro de volume et de dossier. L'instrument de recherche indique les pièces qui ont fait l'objet d'un transfert. MSS0502 90 (Electronic)
http://data2.archives.ca/pdf/pdf001/p000000764.pdf

Objet Inventaire des médailles: no. 9282-9288, 10586-10587. (Paper)
Related materials
Une copie de l'album d'autographe, MG 26-J15, vol. 1, dossier 22, est aussi disponible dans MG 22 A4.

Arrangement note
Cette série a été ré-organisée en 1981.
Date modified: