Archives Search
Warning: Descriptive record is in process. These materials may not yet be available for consultation.
Description found in Archives
Listes des points d'entrée frontaliers [document textuel (microforme)] [1908-1919].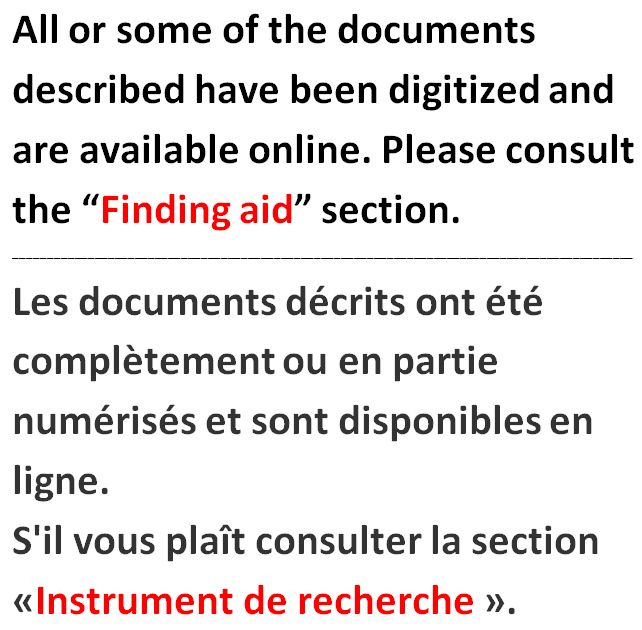 Online MIKAN no. 179161 (1 item)
Microfilmé [ca. 1950-1970]
No place, unknown, or undetermined
La sous-série se compose de listes d'immigrants entrant au Canada par voie de terre le long de la frontière Canada-États-Unis, entre 1908 et 1935. Les listes comprennent également des documents d'immigrants qui arrivent au Canada par des traversiers aux ports d'eau douce et de mer. Les fiches d'autorisation de séjour frontalières ou listes des points d'entrée frontaliers, sont l'équivalent des manifestes des passagers des navires mais en ce qui concerne la voie terrestre seulement. Avant 1908, le gouvernement canadien ne se renseignait pas sur l'entrée, par la frontière américaine, des immigrants au Canada. Entre avril et décembre 1908, le Canada a établi environ 70 points d'entrée frontaliers officiels ainsi que des bureaux d'inspection non officiels ou secondaires. Les bureaux de douanes actuels sont souvent situés aux mêmes endroits que ces anciens bureaux. Les agents des douanes remplissaient les fonctions d'agents d'immigration et accueillaient les trains, traversiers et, à certains endroits, les voyageurs à pied et en voiture qui traversaient la frontière. Ils tenaient également des listes des immigrants admis ou refoulés et des citoyens canadiens de retour. En 1918, les points d'entrée frontaliers étaient déjà mis en place aux États-Unis afin d'intercepter les passagers sur les routes des traversiers et des trains vers le Canada. On retrouvaient également des points d'entrée à des endroits tels que Boston et Portland, Maine, de même qu'à un nombre de villes situées près d'un lac ou d'une frontière dans le Vermont et l'état de New York.
Textual records: microform
90: Open
Former archival reference no.
Droits d'auteur détenus par la Couronne.
Source of title
Titre basé sur le contenu de la sous-série.

Accruals
Nous prévoyons de nouveaux versements.

Dates of creation note
Ce microfilm a été créé par le Ministère durant les années 50 et 60 sous l'autorisation de microfilm M6-62. Les originaux ont alors été détruits.
1. M-1-84
2. 1985-86/586 GAD
3. 1997-98/398 GAD
4. 1997-00203-5
5. RG76
6. RG76-C-1-j
7. RG76-C-4
8. RG76-C-5
Date modified: