Archives Search
Description found in Archives
Sir John A. Macdonald funerary medal [object].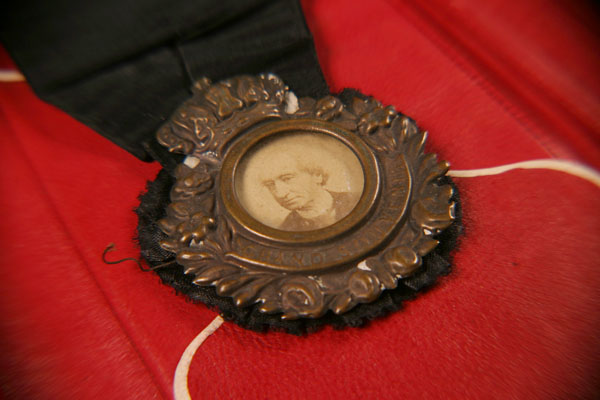 Online MIKAN no. 212433 (3 items)
1 medal: tombac, circular shaped surmounted with royal crown, suspension wearing mode, encased; 4.5 x 5.5 cm (medal); 5.3 x 15.0 cm (medal & ribbon).

Item is a die/machine stamped, circular shaped, copper alloy (i.e. tombac) medal enclosing a miniature, head and shoulders, albumen photographic image of Canada's first Prime Minister, Sir John A. Macdonald. The photographic image is contained by a wreath of heraldic flowers and the inscription "GRAND SOUVENIR" - all of which are surmounted by a royal (i.e. Tudor) crown. The medal was attached to a black ribbon which originally held a fastening device (now lost) by which the medal was worn. The medal, housed in a red leather pouch, was a specially prepared memento created immediately following the death of Sir John A. Macdonald on 6 June 1891, and this example presented to Samuel Rollin Hesson M.P., either in Ottawa on 9 June 1891, the date of Macdonald's lying in state, or in Kingston on 11 June 1891, the date of Macdonald's funeral.
Object
90: Open
To be viewed with the assistance of an a
rchivist.
Volume
21 Item no. assigned by LAC 18

90: Open
Credit: Library and Archives Canada, Arch. Ref. R10892-18, e008072648
Copyright: expired
Restrictions on use: nil
This record replaces MINISIS record number ICON203932.

Arrangement note
The item has been segregated from other records and is located in its own file.

Signatures and inscriptions
Inscribed. Inscription: obverse: GRAND SOUVENIR Inscription: reverse: no inscription Inscription: edge: no inscription Inscription: attachment: no attachement
1. Macdonald, John A. (John Alexander), 1815-1891.
2. Prime ministers Canada.
Date modified: