Archives Search
Description found in Archives
Chaudiere Falls near Quebec,.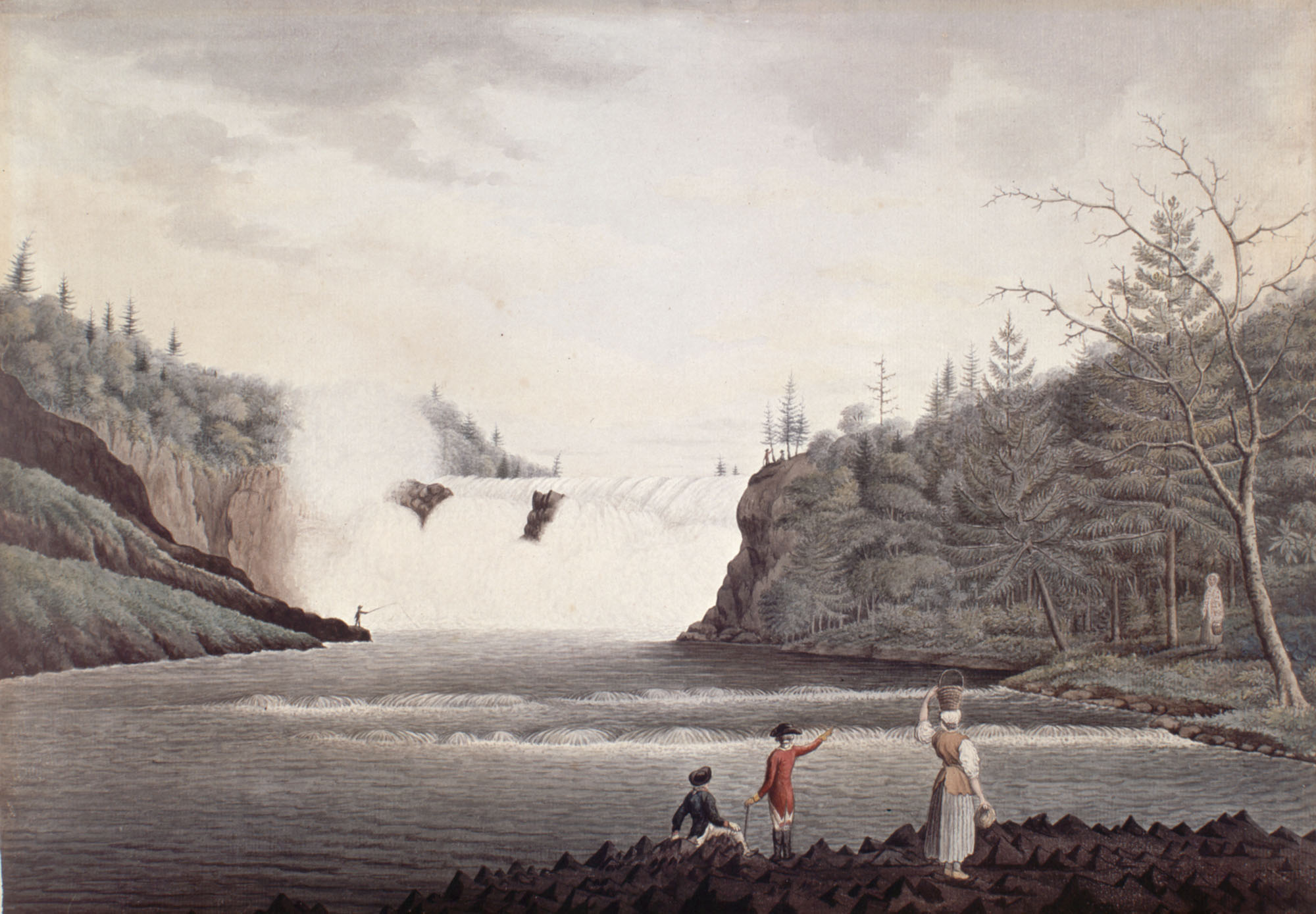 Online MIKAN no. 2834128 (1 item)
No place, unknown, or undetermined
1 watercolour / aquarelle : watercolour and gouache over pencil on laid paper
Support: 52.500 x 37.900 cm
Inventory no.: 000422

Graphic (art)
90: Open
No restrictions on access to originals,
or on use for reproduction or publication.
Graphic (art)
Copy negative C-013313
90: Open
Graphic (art)
Microfiche 10:B3
90: Open
Box
A058-01 Item no. assigned by LAC 3

90: Open
Other accession no.
00003
1989-602 X DAP
Credit: Library and Archives Canada, Acc. No. 1989-602-3
Copyright: Expired
Availability of other formats note
Colour transparency available

Exhibitions note
Exhibition title: Tableaux, Esquisses, Dessins, Aquarelles, Gravures, Etc exhibés par le Bureau des Archives Féderales. Curators: National Archives of Canada (Bureau des Archives Fédérales), Palais Central de l'Exposition Provinciale, Quebec; 1918, cat. no.: no. 3.
Exhibition title: IMage of Canada / Visage du Canada. Curators: Michael Bell, National Archives of Canada, Ottawa, Ontario;1972.01.19 - 1972.03.15, cat. no.: no. 32. Further venue: Montreal Museum of Fine Arts, Montreal, Quebec; 1972.08.10 - 1972.09.30.
Further venue: Royal Ontario Museum, Toronto, Ontario; 1972.11.16 - 1973.01.13.
Further venue: Norman Mackenzie Art Gallery, Regina, Saskatchewan; 1973.02.04 - 1973.02.24.
Further venue: Winnipeg Art Gallery, Winnipeg, Manitoba; 1973.03.19 - 1973.04.22.
Further venue: Glenbow Alberta Insititute, Calgary, Alberta; 1973.10.01 - 1973.10.31.
Further venue: Vancouver Art Gallery, Vancouver, British Colombia; 1973.12.01 - 1973.12.31.
Further venue: Victoria Art Gallery, Victoria, British Colombia; 1974.01.15 - 1974.02.15.
Further venue: Memorial University Art Gallery, St. John's, Newfoundland; 1974.04.01 - 1974.04.30.
Further venue: Beaverbrook Art Gallery, Fredericton, New Brunswick; 1974.05.15 - 1974.06.15.
Further venue: Nova Scotia Museum, Halifax, Nova Scotia; 1974.09.15 - 1974.10.01.
Further venue: International Exhibition Foundation, Washington D.C>; 1975.
Exhibition title: Views and Visions: American Landscape Art before 1830. Curators: Edward J. Nygren, The Corcoran Gallery of Art, Washington, D.C.; 1987.01.17 - 1987.03.27. Further venue: Wadworth Athaneum, Hartford, Connecticut; 1986.09.21 - 1980.11.30.
Exhibition title: By The Soldiers of The Crown: Military Views, Maps, and Plans of Lower Canada. Curators: Musee Marsil de St. Lambert, St. Lambert, Quebec; 1992.06.02 - 1992.07.23.

Signatures and inscriptions
Inscribed. Signed. Dated.
1. Québec.
2. landscape.
3. GEOG - QUE., CHAUDIÈRE FALLS.
4. SUBJ - COSTUMES, REGIONS - CENTRAL CANADA, 1792.
Date modified: