Archives Search
Description found in Archives
Vincent Massey appointed first Canadian High Commissioner to the United States.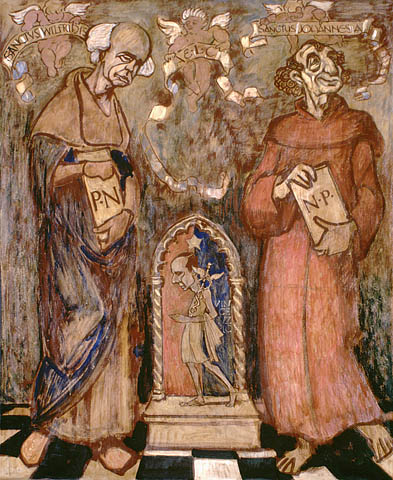 Online MIKAN no. 2837667 (1 item)
No place, unknown, or undetermined
tempera on cardboard
Support: cm (sheet)

The subject of this drawing was identified as "Vincent Massey Entering Politics" when it first arrived at the National Archives. Subsequent research and correspondence with Hart Massey, reveals that the ocassion alluded to in this cartoon drawing is Massey's appointment as High Commissioner to Washington in 1926 ( see artist's file for research notes).
This large cartoon was most likely presented to Massey during a celebration at the Arts and Letters Club held on 5 February 1927. Massey was presented with an illuminated book designed by J.E.H. MacDonald who also did this cartoon. The book was returned to the Arts and Letters Club by Hart Massey where it remains. See colour copies of the book on the artist file.
The cartoon is loaded with symbolic references. It features two of Canada's best-known prime ministers, Sir John A. Macdonald and Sir Wilfrid Laurier with Vicent Massey between them. Macdonald and Laurier are presented as latter-day saints watching over Massey who is depicted as Mercury carrying a caduesus, the symbol of peace and commerce, a fitting attribute for the newly appointed ambassador. Above the three figures are banners identifying Laurier and Macdonald and one bearing the initals of the Arts and Letters Club. Massey is identified by a banner reading "Vincenzio."
Laurier and Macdonald each hold books bearing the letter "P.N." and "N.P." respectively, standing for Politique national and National Policy.
Documents iconographiques (art)
Graphic (art)
Copy negative C-002830
Restrictions not set
Box
2000815295 Item no. assigned by LAC 1

90: Open
Other accession no.
1972-027 PIC
00001
Credit: Library and Archives Canada, Acc. No. 1972-27-1
Copyright: Expired
Availability of other formats note
Colour transparency available
1. SUBJ - Foreign Affairs.
2. Macdonald, John A. (John Alexander), 1815-1891.
3. Laurier, Wilfrid, Sir, 1841-1919.
4. Massey, Vincent, 1887-1967.
5. Politics and government. Canada
Date modified: