Archives Search
Description found in Archives
Le révérend Edmund Peck et un groupe d'Inuits, île Blacklead, baie Cumberland. [L'homme debout à la gauche du révérend Peck est Peter Tulugarjuaq. L'homme dans la rangée arrière à l'extrême droite est Nattiapik, un ancêtre de la famille Kilabuk]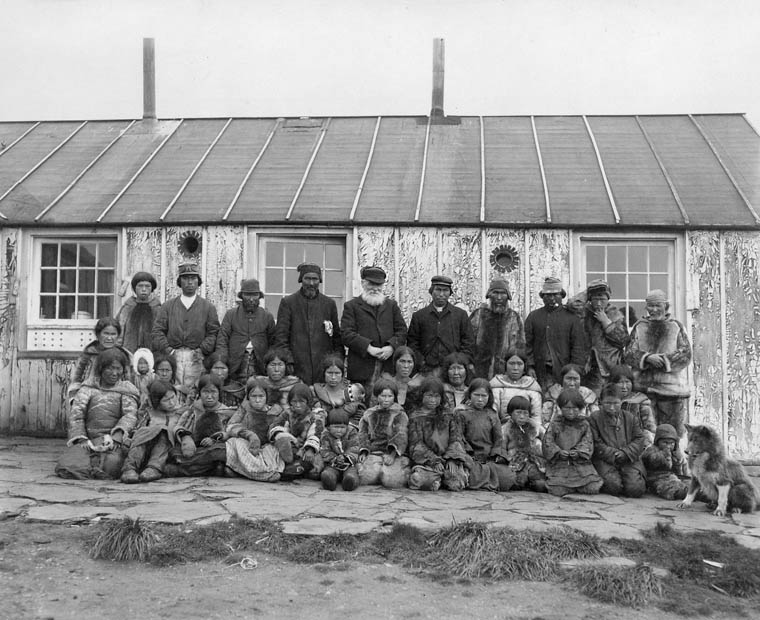 Online MIKAN no. 3629479 (1 item)
No place, unknown, or undetermined
Graphic (photo)
90: Open
Aucune

Graphic (photo)
Copy negative PA-048034
90: Open
Box
2878
NO. N.W.T. 13-2-32
90: Open
Other accession no.
1936-271 NPC
Mention : Albert Peter Low / Bibliothèque et Archives Canada / PA-048034
Restrictions on use: Aucune
Droit d'auteur : Expiré
Expédition d'A.P. Low

Images d'arctique. Collection Canada. Ministère de l'intérieur, No. d'acq. 1936-271

Le titre de la photographie indiqué entre crochets est basé sur des renseignements fournis par le projet " Un visage, un nom ". Ce projet permet à des jeunes et des aînés du Nunavut de travailler ensemble pour identifier les personnes qui figurent sur les photographies conservées à Bibliothèque et Archives Canada et enregistrer leurs noms.

pn1

Described by the MSTRSLID project.

Les cescendants de Pierre Tulugarjuaq ont noté que lorsque le révérend Peck a voyagé en Arctique pour convertir les Inuits au christianisme, il a d'abord avec les dirigeants, qui à leur tour ont converti leurs adeptes. Peter Tulugarjuaq, un dirigeant bien connu et influent de l'île Blacklead, a été le premier de sa communauté à se convertir au christianisme.

Availability of other formats note
No. de diapositive: 3376

Signatures and inscriptions
Rev. Mr. Peck and Eskimos, Blacklead, N.W.T.
1. ÉVÉNEMENTS HISTORIQUES - 1903-1904.
2. T.N.-O. ÎLE DE BLACKLEAD.
3. PECK, REV. J.
Date modified: