Archives Search
Description found in Archives
Victory Bonds Will Help Stop This - Kultur vs Humanity : victory loan drive.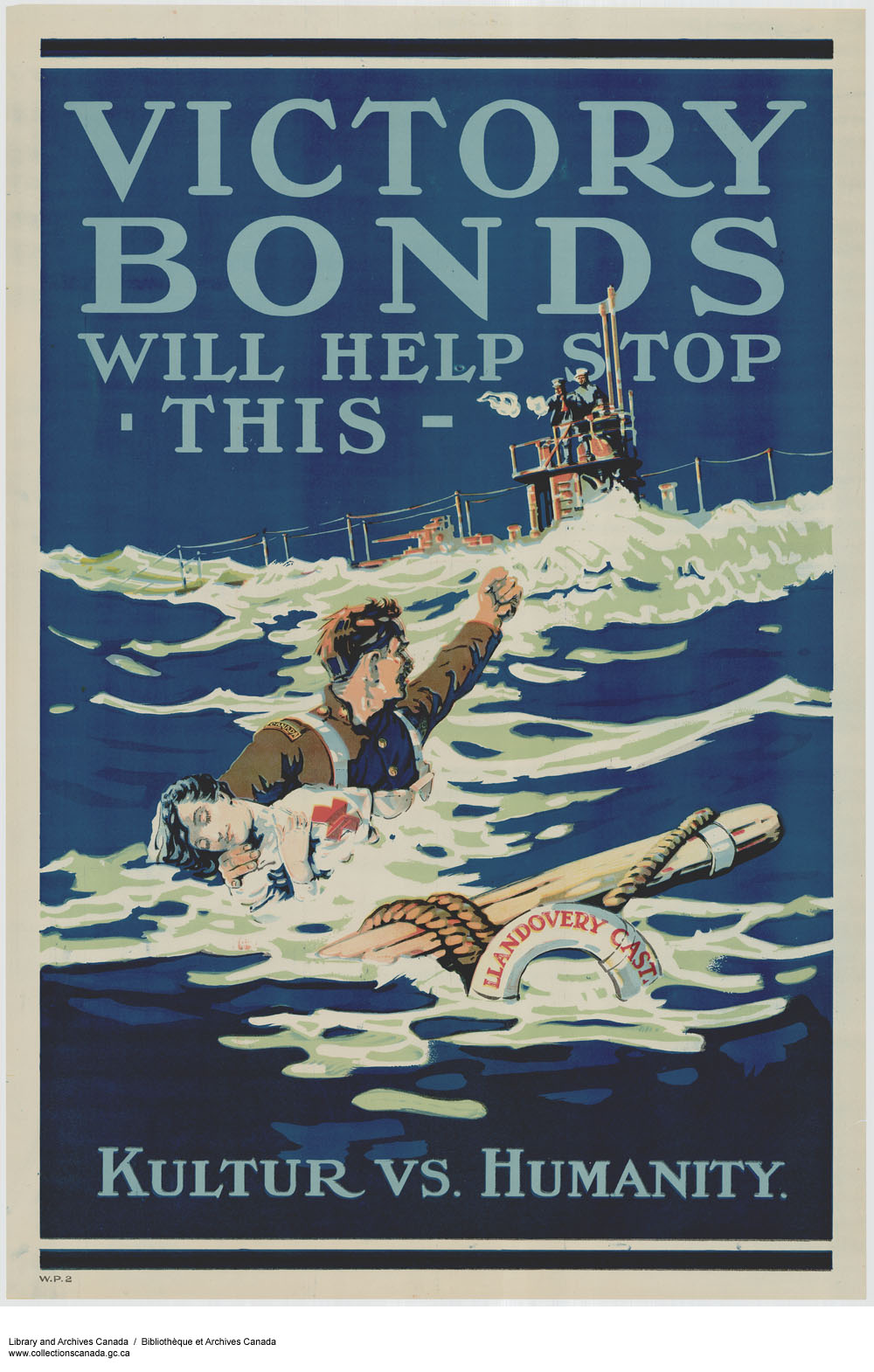 Online MIKAN no. 3635518 (1 item)
1 print / estampe : lithograph on wove paper
Support: 60.900 x 91.200 cm
Inventory no.: 101656

Poster B1-619
Poster depicting the aftermath of the torpedoing of the Llandovery Castle. In the ocean, a man wearing a Canadian service uniform struggles to hold onto a nursing sister as he shakes his fist at a German U-boat. Wreckage, including a "Llandovery Castle" life preserver, floats nearby.
Graphic (art)
Copy negative C-055111
90: Open
Box
A146/X5 Item no. assigned by LAC 553

90: Open
Other accession no.
00553
1983-028 X PIC
Credit: Library and Archives Canada, Acc. No. 1983-28-553
Copyright: Expired / Expiré
Other copies exist: 1983-28-554; 1983-28-506; 1983-28-3033; 1984-4-1479; 1983-28-4061

According to the artist file at the Art Gallery of Ontario, Lorne Kidd Smith "won second prize of $500 for Victory Loan poster with his "Llandovery Castle.'" The Toronto Star of August 15, 1918, confirms that second prize in the 1918 poster competition sponsored by the Dominion Publicity Committee was awarded to Lorne K. Smith of Toronto. Since this poster was produced in 1918 and features the sinking of the Llandovery Castle, it is very likely that Lorne Kidd Smith created this work

The Llandovery Castle was a Canadian hospital ship built in Glasgow, Scotland in 1914. On June 27, 1918, Llandovery Castle encountered a German U-boat and was torpedoed off of the coast of southern Ireland. A total of 234 people, including 14 Canadian nursing sisters, died as a result of the attack

Signatures and inscriptions
Inscribed. Dated.
Inscription: ...W.P. 2 ... (Partial Transcription)
1. Sociale - Canada.
2. War posters, Canadian.
3. World War, 1914-1918 Canada
4. Savings bonds Canada
Date modified: