Archives Search
Description found in Archives
Poli arctici et circumiacentium terrarum descriptio novissima per F. de Wit [cartographic material].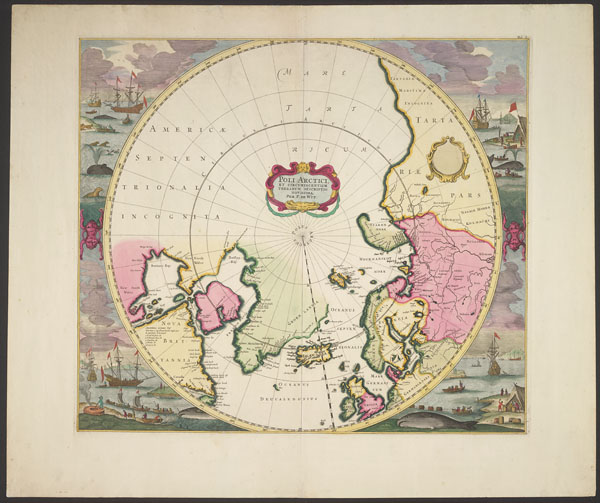 Online
(1)
Show Arrangement Structure
1 map : ill., hand col. ; 41.5 cm in diameter, on sheet 53 x 64 cm.

Maps shows known land masses around the North Pole.
Cartographic material
90: Open
Original can be viewed in the presence o
f an early cartographic archivist.
Cartographic material
Microform NMC 21059
90NA: Open but not available
Cartographic material
Microfiche NMC21059
90: Open
Item no. (creator)
Alexander E. MacDonald Canadiana Collection # 259
Cartographic material
90: Open
Volume
259 Item no. assigned by LAC 259

90: Open
Other accession no.
80101/245 CA
Local class no.
10000/[1715] H2
Pictoral relief.

"Fol 3" appears in upper right margin.

Hand coloured illustrations around margin of map depict activites relating to the whaling industry.

Originally published in Atlas de la navigation et du commerce / Louis Renard, fl. 1715.

Map includes a second cartouche in which the information is faded from.

From: Louis Renard's Atlas de la Navigation, 1715.

Custodial history
Part of the Alexander E. MacDonald Canadiana Collection purchased by the Public Archives of Canada in 1981.

Citation / reference note
Kershaw, vol. 1, Entry 104, State 6, p. 102.
Phillips, Entry 559, no 3.
Phillips, Entry 592, no 3.
Koeman, vol. 4, Entry Ren1, p. 432
Koeman, vol. 4, Entry Ren 2, p. 433.

Copy / version note
The microfiche version is NMC 21059.

Exhibitions note
This map was part of an exhibition held at The Royal Ontario Museum, April 1958 entitled "Up North: The Discovery and Mapping of the Canadian Arctic, 1511-1944" showcasing MacDonald's Collection
National Map Collection 1985 Antique Map Calendar
Date modified: