Archives Search
Warning: Descriptive record is in process. These materials may not yet be available for consultation.
Description found in Archives
Proclamation of the Constitution Act, 1982.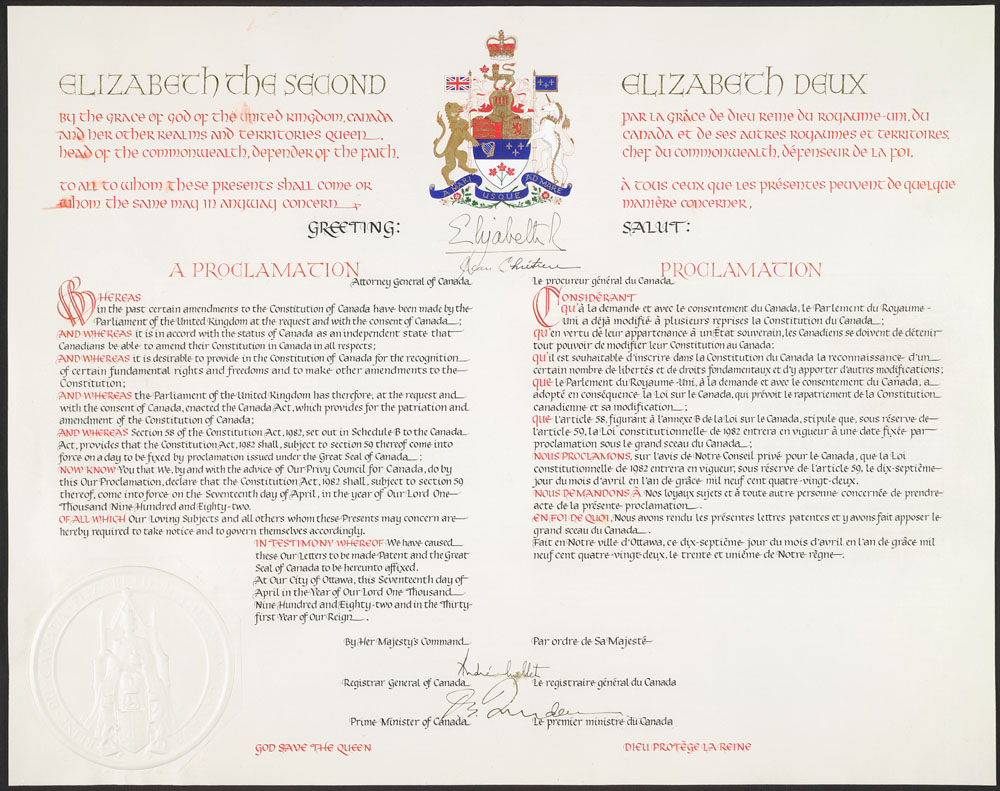 Online MIKAN no. 3782519 (1 item)
0.01 m of textual records

Volume RG68 886/1 is original
886/2 is original housing and certificate of authenticity
from 886/1 to 886/2
90NA: Open but not available
Former archival reference no.
Copyright: Government of Canada.
This original copy of the Proclamation of the Constitution Act, 1982 is the one which was signed by HM Queen Elizabeth II on Parliament Hill, 17 April 1982. Damaged slightly by rain during the signing ceremony, this version is informally known as the 'raindrop' copy. A second original Proclamation exists: see RG 68 vol 887. A framed reproduction of this Proclamation is vol 3352.

Physical description note
Dimensions are approximately 48.3 x 61 cm.

Exhibitions note
Exhibition title: Canada Collects. Curators: Mary Montgomery, Royal Ontario Museum, Toronto, Ontario; 2007.10.06 - 2008.01.06.
Date modified: