Archives Search
Description found in Archives
Map for Western Treaty No. 1 - IT 259.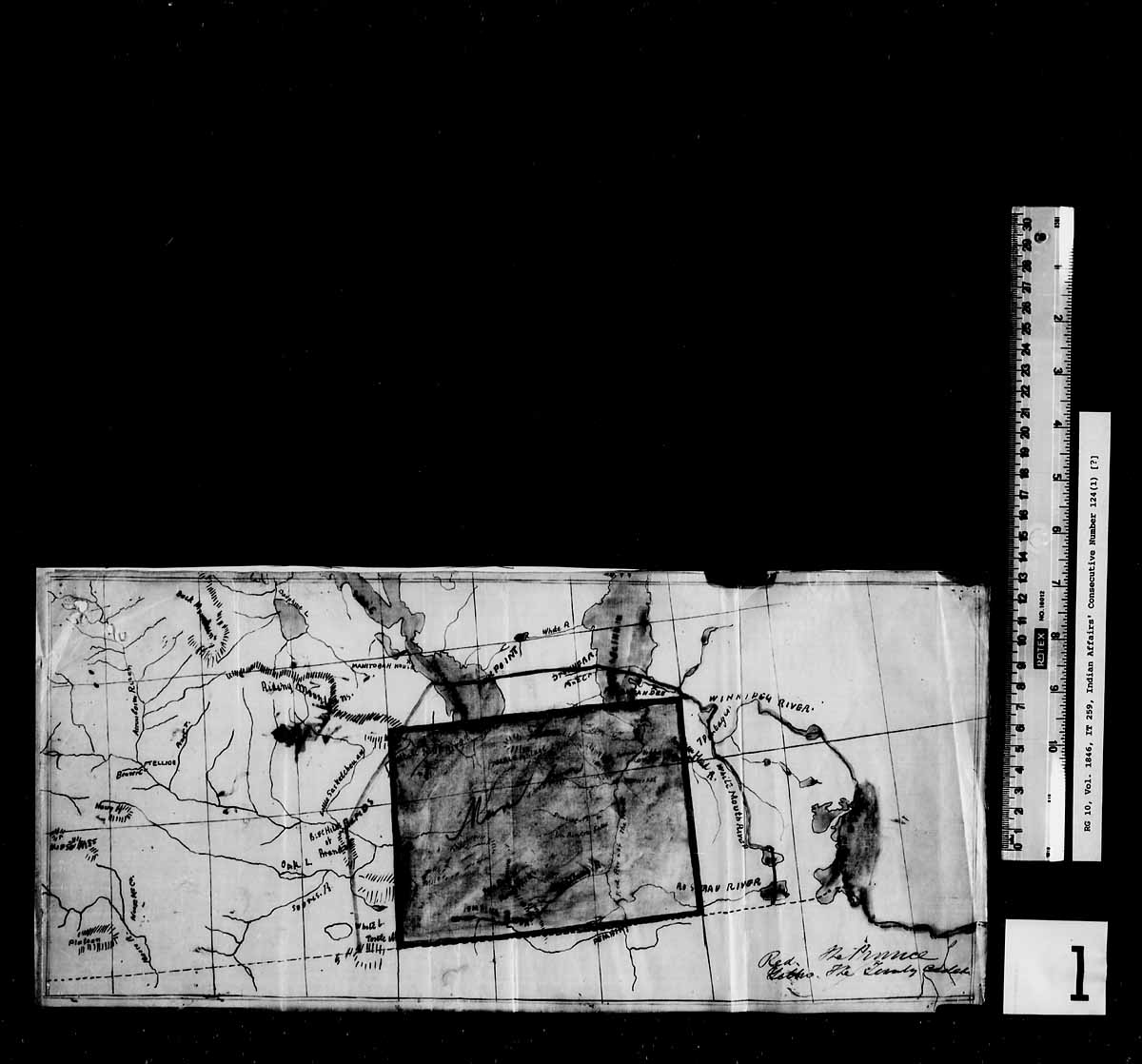 Online MIKAN no. 3972594 (1 item)
1 sheet; 45 x 21 cm (18" x 8-1/2").

Textual records: microform
90: Open
Microfilm reel
T-9939
90: Open
Volume
1846/IT259
90: Open
Former archival reference no.
In order to protect the fragile originals, the microfilm copies or digitized images of these records must be consulted rather than the originals. Copyright expired. Credit: Library and Archives of Canada.
GAD Reference number: IT 259; Indian Affairs' consecutive no.: 124(1) [?]

Aboriginal people(s): N/A

Type of Document: Map; no title, but indicates by colours "The Province" and "The Territory [or Treaty?] ceded"

Specific purpose(s): Illustrates the land ceded by treaty

Land involved: Southern Manitoba area

Form: Manuscript original

Physical description note
--brown ink; map coloured with blue, red and yellow; possibly longitudinal and latitudinal lines indicated

Physical condition note
--several holes in top left corner of varying sizes; although found with the I.A. 124(1) file folder, it appears more likely that this map should accompany I.A. 124

Source of title
Title supplied from contents.

Related materials
IT 255 - Western Treaty No. 1

IT 256 - "Outside Promises"

IT 257 - Selkirk Treaty

IT 258 - Map (c.1817)

Dates of creation note
No date (but probably accompanies the treaty of 1871/08/03)
Date modified: