Archives Search
Description found in Archives
Médaille funéraire de Sir John A. Macdonald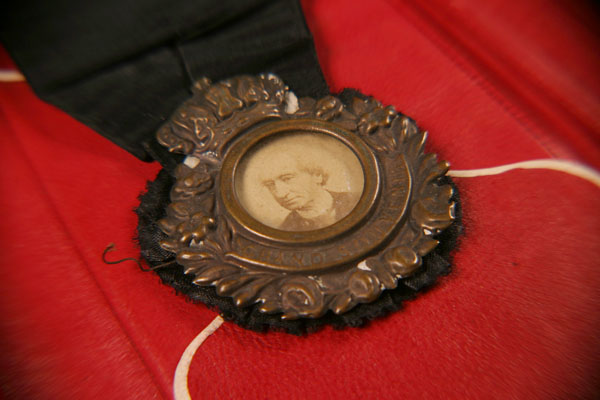 Online MIKAN no. 4170466 (3 items)
1 médaille: en tombac, de forme circulaire surmontée d'une couronne royale, suspendue à un ruban, enchâssée; 4,5 x 5,5 cm (médaille); 5,3 x 15,0 cm (médaille & ruban).

La pièce est une médaille estampée à la machine, de forme circulaire, en alliage de cuivre (tombac), dans laquelle se trouve une photographie miniature à l'albumine, montrant la tête et les épaules du premier ministre du Canada, Sir John A. Macdonald. La photographie est entourée d'une couronne de fleurs héraldiques et de l'inscription "GRAND SOUVENIR"; le tout est surmonté d'une couronne royale (Tudor). La médaille est attachée à un ruban noir qui à l'origine était muni d'un dispositif de fixation (maintenant perdu), permettant de porter la médaille. Conservée dans un étui en cuir rouge, la médaille est un objet souvenir, créé spécialement pour l'occasion et fabriqué immédiatement après le décès de Sir John A. Macdonald le 6 juin 1891. Cet exemplaire a été présenté au député Samuel Rollin Hesson, soit à Ottawa le 9 juin 1891, date de l'exposition en chapelle ardente de MacDonald, soit à Kingston, le 11 juin 1891, date de ses funérailles.
Object
90: Open
To be viewed with the assistance of an a
rchivist.
Volume
21 Item no. assigned by LAC 18

90: Open
Mention : Bibliothèque et Archives Canada, numéro de référence archivistique R10892-18, e008072648
Droits d'auteur: périmés
Restrictions sur l'usage: aucune
Cet enregistrement remplace le numéro ICON203932 de MINISIS

Arrangement note
La pièce a été séparée des autres documents; elle est conservée dans un dossier à part.

Signatures and inscriptions
Inscrit. Inscription: recto : GRAND SOUVENIR Inscription: verso : aucune inscription Inscription: tranche : aucune inscription Inscription: pièce jointe : aucune pièce jointe
1. Macdonald, John A. (John Alexander), 1815-1891.
2. Premiers ministres Canada.
Date modified: