Archives Search
Warning: Descriptive record is in process. These materials may not yet be available for consultation.
Description found in Archives
CEF Personnel files [textual record]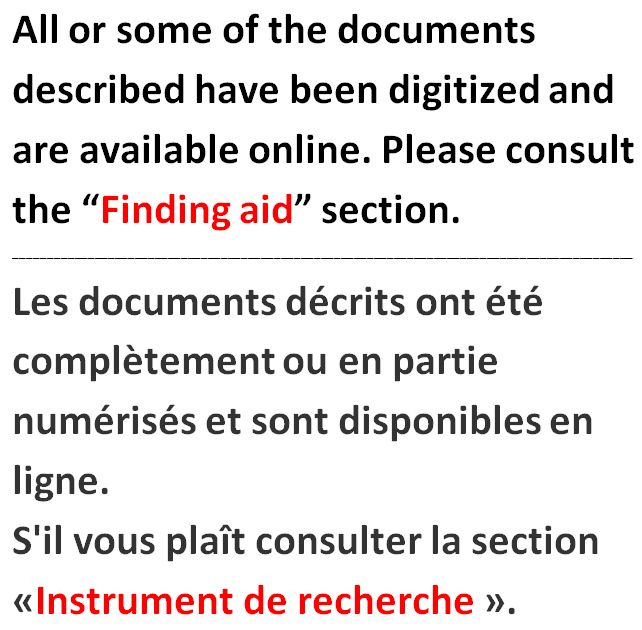 Online MIKAN no. 46114 (1 item)
No place, unknown, or undetermined
3205.8 m of textual records

Box
from 19 to 10686
44A
92A
473A
510A
555A
566A
579A
587A
621A
623A
645A
664A
685A
709A
732A
780A
818A
825A
872A
883A
910A
from 935A to 936A
941A
949A
953A
968A
979A
994A
999A
1023A
1027A
1032A
1037A
1050A
from 1063A to 1064A
1078A
1081A
1084A
from 1101A to 1102A
1106A
1125A
1144A
1159A
1171A
from 1197A to 1198A
1220A
1228A
1235A
from 1237A to 1239A
1244A
1272A
from 1274A to 1293A
1306A
1318A
1320A
1333A
1352A
1371A
1382A
1390A
from 1399A to 1400A
1405A
1407A
from 1410A to 1411A
from 1962B to 1963B
2057A
2556B
6114A
90: Open
Volume
414A
736A
973A
1008A
1029A
1392A
1465A
from 1480A to 1481A
1502A
1512A
1515A
1517A
from 1532A to 1533A
1549A
from 1558A to 1561A
from 1599A to 1600A
1604A
1607A
1614A
1637A
1670A
1679A
1689A
1710A
1722A
1728A
1731A
from 1748A to 1749A
1757A
1770A
1783A
from 1802A to 1804A
1825A
1844A
1847A
1849A
1893A
1936A
1941A
1956A
1964A
1972A
1992A
2002A
2056A
2058A
2065A
90: Open
Former archival reference no.
Former BAN no.
120-000165-6
Other accession no.
1992-93/166 GAD
Shortly after the British declaration of war in August 1914, Canada offered an initial contingent of twenty-five thousand men for service overseas. The Canadian Expeditionary Force, as it was designated, grew in the course of the War to enroll 619,636, of whom 424,589 served overseas. The Department of Militia and Defence opened personnel files for every individual who enrolled in the CEF. The personnel files contained forms and correspondence to document the training, movement, pay, promotion, and medical status of each member of the CEF. At discharge, a number of additional documents were added to the file for medical condition at discharge, and to reconcile final pay, allowances and gratuities. After the war the various personnel files, including the overseas file, for each soldier or nursing sister were consolidated and transferred to the Public Archives of Canada. After the Second World War these files were transferred to the Department of Veterans Affairs who required them to administer benefits to former service personnel. In 1947, the Department of Veterans Affairs selected individual forms from each file and destroyed the remainder of the file. They retained only the forms required to document service, length of service, conditions of service, - including injury or illness, - and the medical condition of the individual at disharge. From these selected documents they created the document envelopes now found in this accession.

NOTE: Boxes 1 to 18 of this accession have been brought to permanent status in RG150 Volumes 1 to 35.

Exhibitions note
Exhibition Title: Asian Heritage Month. Box: 6268-49 Curator: Mark Lavine, Rachelle Chiasson-Taylor. Library and Archives Canada. 2004.05.17- 2004.05.18.
Date modified: